Dan Rather Talks Gay Marriage on 'Wendy Williams'
The legendary newsman gets candid about Couric and Romney
Dan Rather is making the rounds to promote his book, "Rather Outspoken" and during his visit to "The Wendy Williams Show" Friday, June 1, he lived up to the title. The legendary newsman didn't hold back when Williams asked about gay marriage, Mitt Romney and Donald Trump, fishing with the Kardashians nor the cutting 2007 remarks he made about "CBS Evening News" that left Katie Couric steaming.
Bing: More about Dan Rather | "The Wendy Williams Show"
Couric's upcoming talk show is a daytime hot topic and Rather admitted he'd "absolutely" accept an invite to appear on the show. Unfortunately, his "Rather Outspoken" nature may preclude it. "You're more likely to see water run uphill," he quipped.
The tension goes back to Rather's infamous cut that CBS News decided "to dumb it down, tart it up" when Couric joined "CBS Evening News."
"It was not directed at Katie personally, for whom I have a great respect," Rather told Williams. "I think she misinterpreted it at the time, but so be it… She's a great interviewer, she's a great television personality, but the powers that be in the corporate side of CBS News wanted to do away with the Ed Murrow-Walter Cronkite tradition… What [they] wanted to do was take "The Today Show" and bring it to the evening news. I don't excuse Katie Couric, but it was really the people who hired her saying... 'We want you to make softer news.'"
Rather added that Couric ultimately suffered for the decision, as did the ratings before CBS turned the show back around. "In a way, Katie Couric has much to answer for, but she was doing the kind of program she was told they wanted to do," he concluded.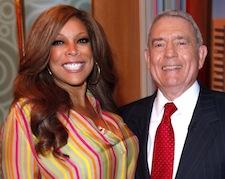 Williams and Rather also talked politics, dishing about Mitt Romney and Donald Trump's relationship and Barack Obama's decision to sanction gay marriage. 
"It was the right thing to do," Rather said of the President's decision. "And because it was the right thing to do, I think at least in the medium-to-long run, it will turn out to be the right political thing to have done. In the short run, controversy, of course... Whether it turns out politically beneficial or not, it was the right thing to do."
Then it was game time. Williams shot "Would you Rather?" questions at her guest. Watch the clip and tune in to the show to see what he had to say about whether he'd take the Romneys, Trumps or Kardashians on a fly fishing trip and whether he's prefer to see a Madonna or Lady Gaga concert.
"The Wendy Williams Show" airs weekdays in syndication and at midnight on BET