July Fourth Preemptions, Marathons and Fireworks
The rundown on what to watch if you're staying in for the holiday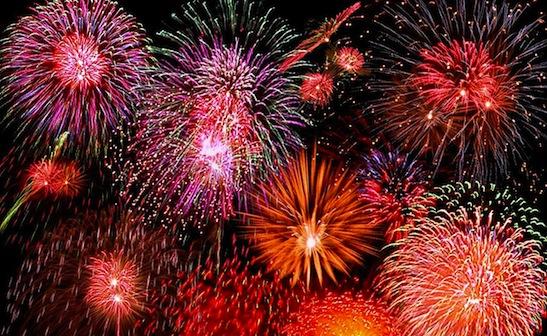 With Fourth of July falling on a Wednesday this year, not everyone is up for hitting the streets. For those staying in for the holiday, here's the rundown on what's airing in daytime, where to find the marathons and which networks are hosting the annual fireworks celebrations. 
Bing: More on Fourth of July
Daytime TV Parties and Preemptions
In the daytime talk show circuit, "Live! With Kelly" is hosting a Fourth of July Party with guest host Kevin Jonas and guests Blake Lively and Cody Simpson. "The Rachael Ray Show" is having a Fourth of July Feast with grilling pro Adam Perry Lang and chef Marcus Samuelsson. 
"Today," "GMA" and "CBS This Morning" are always new and will likely get into the spirit of the holiday. "Bethenny" is also a fresh episode, but may not be geared toward the holiday. The other talk shows are on the schedule, but airing repeats.
Soap fans will find fresh episodes of  CBS's "The Young and the Restless" and NBC's "Days of our Lives" will air new episodes, but ABC's "General Hospital" is airing a rebroadcast of the April 24 episode. 
Also: United States of TV: Celebrate the Fourth of July with a tour of shows set all across America

Fireworks
The Macy's Fourth of July Fireworks Spectacular airs on NBC at 9 p.m. and 10 p.m. ET/PT, with performances from Katy Perry and Kenny Chesney.
The Boston Pops Fireworks Spectacular airs on CBS at 10 p.m. ET/PT. Jennifer Hudson performs with the Boston Pops, under the direction of conductor Keith Lockhart, at the Charles River Esplanade. Michael Chiklis hosts. 
America's 4th Of July Concert in Washington, D.C. will air on PBS at 8 p.m. ET/PT. Tom Bergeron hosts this year's "A Capitol Fourth," which also features "American Idol" winner Phillip Phillips, Megan Hilty ("Smash"), Matthew Broderick with Kelli O'Hara, "The Voice" winner Javier Colon, Josh Turner, Kool & The Gang, Russell Watson, Amber Riley ("Glee"), the National Symphony Orchestra under the direction of conductor Jack Everly, Apolo Anton Ohno and John Williams.
Marathons
There are several marathons on the schedule for July 4, as well, along with festive American movies. Here's a collection of movies and marathons from roundups across the web. 
Independence Day Movies
"Men In Black II" (noon ET/PT on TBS)

"Wild Wild West" (1:45 p.m. ET/PT on TBS)
 "1776" (5 p.m. ET/PT on TCM)
"Yankee Doodle Dandy" (8 p.m. ET/PT on TCM)
"Independence Day" (8 p.m. and 11 p.m ET/PT on AMC) 
"Stars and Stripes Forever" (10:15 ET/PT on TCM)
Marathons
Summer Party Weekend Cooking Block (7 a.m. to 2 p.m. ET/PT on Food Network)
"Cake Boss" (6 a.m. to Noon, ET/PT on TLC)
"I Love Lucy" (8 a.m. to 1 p.m. ET/PT on TV Land)
"The Revolution" (8 a.m. to 6 p.m. ET/PT on History Channel)
 "Star Trek: The Next Generation" (8 a.m. to Midnight ET/PT on BBC America)
"Band of Brothers" (9 a.m. to 6 p.m. ET/PT on Spike)
"Roseanne" (9 a.m. to 6 p.m. ET/PT on Oxygen)
"Auction Kings" (9 a.m. to 6 p.m. ET/PT on Discovery Channel)
"House Hunters" (10 a.m. to 8 p.m. ET/PT on HGTV)
"The Mentalist" (10 a.m. to 5 p.m. ET/PT on TNT)
"NCIS" (10 a.m. to 11 p.m. ET/PT on USA)
"America's Funniest Home Videos"  (11 a.m. to 11 p.m. ET/PT  on ABFamily)
"Kendra on Top" (10 a.m. to 6 p.m. ET/PT on WE tv)
"Food Paradise" (11 a.m. to 7 p.m. ET/PT on Travel Channel)
"Greatest Hits of the '90s" (11 a.m. to 4 p.m. ET/PT on VH1)
"Undercover Boss" (1 to 10 p.m. ET/PT on TLC)
"Don't Be Tardy for the Wedding" (2 to 7 p.m. ET/PT on Bravo)
"Dallas" (5 to 10 p.m. ET/PT on TNT)
                                    -- TVGuide, NY Daily News and Channel Guide
Are you sure you want to delete this comment?