Hopes for a 'Felicity' reunion dashed for now
Some may want a sequel but Russell and Speedman have moved on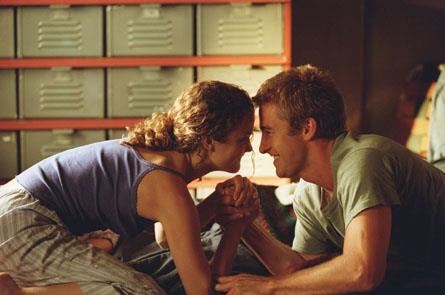 Fans of "Felicity" have been receiving a lot of mixed signals as of late regarding a possible revival.
Several of the drama's former players have been talking dreamily about the series, which aired on the WB from 1998-2002, arousing sparks of hope.
Bing: More on 'Felicity' | Keri Russell  | Scott Speedman  | J.J. Abrams  | Ian Gomez
Sadly, star Keri Russell is not one of them. She told reporters at a recent junket that she's enjoying her new gig as a butt-kicking KGB sleeper agent on FX's "The Americans," which debuts Jan. 30.
"The cool part of this job is experiencing that kind of masculine aggression," Russell, 36, said. "There are many things that you would like to do, and you're afforded to do a few of those things. But this is the thing that came my way right now, and it's interesting to me." 
Plus: TV's most exciting mid-season shows | TV's 'It' girls
Meanwhile, Scott Speedman recently joked in the January/February issue of Playboy, that if he were to do a "Felicity" reunion, he'd have some caveats.
"I've thought about a 'Felicity' sequel," Speedman said. "People want a reunion. I joke that I'd totally do it if it's years later and my character, Ben, weighs 500 pounds. He's a shut-in, and they're bringing paramedics and pulleys to get him out of bed."
But a "Felicity" reunion isn't impossible, right? J.J. Abrams, who created the show, told THR he misses "Felicity" more than his other old series, "Lost" and "Alias." So there's that.
"I miss writing for a show that doesn't have any sort of odd, almost sci-fi bend to it," said Abrams, one of the executive producers behind NBC's "Revolution," adding that it was exciting coming up with stories for a series without risks and a villain. "It was just sort of pure, romantic, sweet characters who had crushes on one another and were dealing with which party to go to and if they had a part-time job or not -- stuff that was kind of fun to write about."
And Ian Gomez, who played Javier on "Felicity," was less sardonic than Speedman when he told Latina magazine that he'd love to do a quasi-reunion on his show, "Cougar Town."
"I'm trying to get the whole cast of 'Felicity' to come on," Gomez said. "Scott Speedman and Keri Russell would be wonderful, and the whole gang -- we can have a mini 'Felicity' reunion!"
So, for the record Abrams and Gomez are more nostalgic about "Felicity" than Russell and Speedman? Got it.
"Cougar Town" airs Tuesdays at 10 p.m. ET/PT on TBS. "The Americans" debuts Wednesday, Jan. 30, at 10 p.m. ET/PT on FX. And "Revolution" returns Monday, March 25, at 10 p.m. ET/PT on NBC.