Russell Brand Courts Controversy
Comedian discusses changes to his talk show, Charlie Sheen, Sarah Palin and more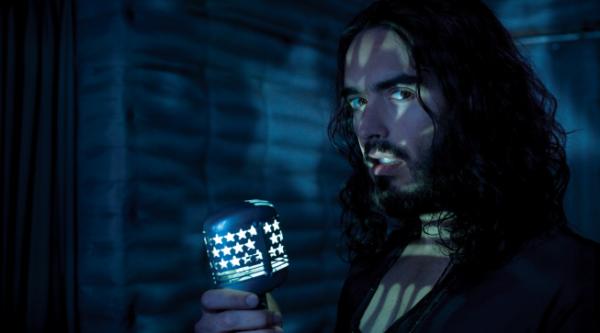 Barefoot and full of quips, an infamously candid Russell Brand had a go with reporters as he plugged his newly rejiggered talk show "BrandX with Russell Brand."
Bing: More on 'BrandX with Russell Brand' | Russell Brand 
"The show will look a little more like a conventional late night show," said Brand, 37, Saturday at a Television Critics Association panel in Beverly Hills. FX picked up seven additional episodes of "BrandX" and the host and comedian said unlike before, he will have a monologue and guests -- guests like Charlie Sheen.
"I know Charlie a bit, and I'm pulling him into it," Brand said of Sheen, his timeslot and network neighbor. "By the time that we get to the seventh show, he will arrive, thinking it's the booking that he had for the first show. He can come on every week with a different one of his personalities."
Another dream guest would be former Alaskan governor and vice-presidential candidate Sarah Palin, Brand said.
 "Sarah Palin would be amazing, wouldn't she?" Brand asked. "I'll go straight to the subtext because I think the reason that Sarah Palin has been so long tolerated is because of that latent inquisition around the vagina. People want to f--- her, don't they?
"That's why you tolerate the other stuff. You think, okay, that is a mad thing to say about seeing Russia out your window, but the dick don't lie."
Plus: Olympic TV efforts | 2012 Emmy nominees
Wow. Oh, and if you're wondering why Brand was barefoot, he said it was because he injured his foot kickboxing. Or as he called it "kicky boxing."
"It's not like I kicked someone so hard, a bit of my foot fell off," he said. "There was abrasiveness caused by the pad. It's essentially a rug burn. So I thought, 'Don't wear shoes for a while.' I mean, shoes are in themselves an oddity and addition.
"Actually, the real question is why are you all wearing shoes?"
"BrandX With Russell Brand" airs Thursdays at 11 p.m. ET/PT on FX.