Look who's talking in daytime: Dec. 7 to Jan. 11
Oscar and Golden Globes mania and TV's midseason stars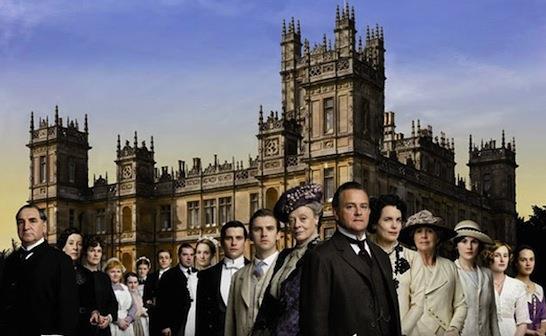 With Oscar and Golden Globes mania and TV's midseason upon us, daytime is hopping the week of Dec. 7. Emma Stone, Josh Brolin and Ryan Gosling ("Gangsters Squad"); Jessica Chastain and Jason Clarke ("Zero Dark Thirty"); Marlon Wayans ("A Haunted House"); Common and Michael Rainey ("LUV"), Ben Affleck and real-life former CIA agent Tony Mendez ("Argo") and Bradley Cooper ("Silver Linings Playbook") are talking movies. Primetime stars are promoting "Downton Abbey," "The Good Wife," "Once Upon A Time," "Pretty Little Liars," "Blue Bloods," "Californication," "Shameless," "House of Lies," "American Horror Story," "Girls," "Cougar Town," "Enlightened," "Go On," "Portlandia," "The Burn with Jeffrey Ross," "1600 Penn," "Betty White's Off Their Rockers," "The Bachelor," "Snooki & JWoww," "Vanderpump Rules," "Still So Unusual," "The Real Husbands of Hollywood" and "Restaurant Wars." Plus, don't miss performances from Nas, Conor Maynard and Lindsey Stirling.
Bing: More Daytime TV news  | Golden Globes | Oscar Nominations  
Oscar nominations drop Thursday morning, which will make for lots of Academy Awards chatter at the end of the week. Expect to see hot nominees show up on the schedule last minute. Other notables coming to daytime include Oscar host Jimmy Kimmel, People's Choice Awards host Kaley Cuoco, Ricky Gervais, Jeff Bridges, Rob Lowe, Nene Leakes, Iman, LeVar Burton,,Bobby Flay, Paula Dean, Guy Fieri and Nate Berkus.
Schedules are subject to change
"Anderson Live"
Mon: Co-host Soledad O'Brien
Tue: Co-host Lisa Vanderpump; Betty White
Wed: Co-host Cyndi Lauper
Thurs: Co-host Marlon Wayans; Bridget Moynahan, Ellen Fein and Sherrie Schneider
Fri: (repeat) Co-host Robin Robinson; ghost hunting moms
"Ellen"
Mon: Courteney Cox, Kevin Hart 
Tue: Kaley Cuoco, Padma Lakshmi
Wed: Ricky Gervais
Thurs: Emma Stone, Common
Fri: Jimmy Kimmel
"Good Morning America"
Mon: Busy Phillips, Lisa Vanderpump, Heidi Klum, Sean Lowe
Tue: Ben Affleck and former CIA agent Tony Mendez, chef Paula Deen, Sam Champion; Conor Maynard performs
Wed: Josh Brolin, Rachael Ray and Guy Fieri, Common and Michael Rainey, Jr., Crystal Renn
Thurs: Rob Lowe; Oscar nominations revealed live; Jess Cagle, Chris Connelly and nominees
Fri: Ryan Gosling, Iman, Bobby Flay
"Katie"
Mon: Surprise show with unnamed guests and co-host
Tue: Andrew Solomon, families parenting in the face of extreme and unexpected challenges
Wed: Julianna Margulies, Nene Leakes, cast of "Downton Abbey"
Thurs: a 20-year-old woman trapped inside the body of a one-year-old, a 13-year-old who feels no pain
Fri: Phoebe Baker Hyde
"Live! With Kelly and Michael"
* Kick Start the New Year Week
Mon: Betty White, Sean Lowe
Tue: Jessica Chastain, Busy Phillips 
Wed: David Duchovny, Marlon Wayans
Thurs: William H. Macy, Jenna Elfman
Fri: Lena Dunham, Ginnifer Goodwin; Nas performs
"Marie"
Mon: LeVar Burton, Erin Chase, Gary and Larry Lane; Lindsey Stirling performs
Tue: (repeat) Linda Evans, Kym Douglas, Laura McKenzie; comedienne Stephanie Blum performs
Wed: (repeat) Kristoff St. John, Lisa Adams, three-time cancer survivor Hillary Fogelson; Josh Doyle performs
Thurs: (repeat) Carnie Wilson, Jason Gedrick; Mac Powell
Fri: (repeat) Melody Thomas; "SYTYCD" finalists Courtney Galiano and Marko Germar perform
"Rachael Ray Show"
Mon: The Beekman Boys 
Tue: Lucy Hale and Ashley Benson
Wed: Gretta, cutting-edge painless plastic surgery
Thurs: Nate Berkus
Fri: Carrie Keagan, Busy Phillips
"The Talk"
Mon: Matthew Perry, Harlan Coben
 Tue: Kathy Griffin, chef Susan Feniger
Wed: Kaley Cuoco
Thurs: Don Cheadle, Jamie Krell
 Fri: Snooki and JWoww
"Today"
Mon: TBA
Tue: TBA
Wed: TBA
Thurs: TBA 
Fri: TBA


"The View"
Mon: Jessica Lange
Tues: Bradley Cooper, Jeffrey Ross
Wed: Jeff Bridges
Thurs: Rob Lowe, Fred Armisen and Carrie Brownstein
Fri: Co-host Gilles Marini; Laura Dern, Jason Clarke
"The Wendy Williams Show"
Mon: Lisa Vanderpump
Tue: Cyndi Lauper
Wed: Norma Kamali
Thurs: no celebs on the docket
Fri: Marlon Wayans