'Vampire Diaries' Finale Talking Points: Elena's Choice
In a heart-rending finale, Elena must finally choose between the brothers Salvatore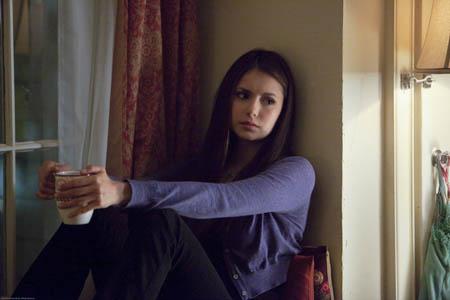 Okay, get ready for an AH-MAZ-ING tearjerker of a as season three "Vampire Diaries" finale, with love and loss and shocking turns. 

Bing: More on "The Vampire Diaries"
Last week, the Klaus problem was finally resolved, at least temporarily, but Alaric was still out there, taking over the council, gearing up for a war on vampires. Plus, Elena's life was linked to his, and all the action was apparently too much for, because she passed out – and had a horrible nosebleed.
Also: What TV shows are returning next season?
This week, Elena woke to an alternate reality, one in which she was still a peppy cheerleader, and Aunt Jenna and her mom were still alive. Of course, that was really all a dream. In real reality, Elena was in the hospital, and Jeremy was declared an idiot by the brothers Salvatore for bringing her there, turning her into "a sitting duck." They insisted they get her out of there.
Dr. Meredith Fell, meanwhile, got a visit from an angry Alaric, who said the council was revoking her license and that she needed to release Elena into his custody. But when he got to the room where Elena was supposed to be conked out, she was nowhere to be found. 
Caroline and Jeremy had brought her home, where she looked at her old cheer pictures and remembered a time before vampires ruled her thoughts and her life. Matt was there when she awoke again, and she apologized for stringing him along. "And now I'm making the same mistakes with Stefan and Damon," she said. "I have to let one of them go." Matt asked: "Which one?"
Stefan showed up then, and shortly thereafter, tun, tun, tun…Elijah. He wanted the White Oak stake. And Klaus's body. He promised they'd all go away then. "I will not revive Klaus within yours or even your children's lifetimes," Elijah said. "I leave it to you to make the decision whether to trust me or not." Damon, on speakerphone, said, "No, no, no, no. Did I mention no?"
At the bar, Jeremy ran into his mentor and guardian Alaric. He wanted Jeremy to reveal where they were keeping Klaus's body. "With your help, I'll get rid of all of the vampires. I'll kill all of them, and when I die, they'll all be gone." Except, of course, that Alaric's life was linked to Elena's. He suggested Bonnie to another spell, delinking them. "Be on the right side of this, Jeremy."
Tyler and Caroline went to the Mayor's mansion, where Tyler's mom and Sheriff Forbes told them Alaric was after them. "You have to run. If you stay, you'll end up dead. You don't have a choice." Tyler suggested they get out of there. "I will go anywhere with you," she said. "But first I have to help my friends." They planned to meet in two hours.
Later, Jeremy called Alaric and said he knew where Klaus's body was. "Thank you, Jeremy. You're doing the right thing for your sister." Jeremy agreed. But it turned out he was making the call in front of Elena, Stefan and Elijah. The plan was in motion.
Damon and Bonnie went to go get Klaus's body, which was stored in, of all things, a storage facility. "One beef-jerkified original." Bonnie needed a minute alone to revel in Klaus totally powerless and petrified. "You should burn in hell, but if you die, so do my friends. So does my mother. What am I supposed to do about that?"
In the midst of all the drama, Stefan and Elena took a few moments to ponder their situation. But there was hardly time to resolve anything. "We can talk later," Elena said. That's when he kissed her, a soul-searing smooch. "Just in case there is no later." 
Damon waited for Rebecca to pick up Klaus's coffin, but Alaric showed up instead. Damon suggested he go ahead and look for the body in a storage locker – one of the thousand.
Matt and Elena mellowed out with tea at home, where he called her on the Salvatore dilemma. "Stefan saved my life," she said. "After the accident, I felt like I didn't know how to live anymore. Being with Stefan, somehow I figured it out. You should love the person who makes you glad that you're alive." The problem? "Damon. When I'm with him, he just consumes me. When I choose one, I'll lose the other. And I don't want to lose anyone else."
She recalled a moment when her mom advised on her breaking up with Matt, all those years ago. "You're not going to lose him," mom said. "You're going to set him free." She awoke with a start again, and found herself in Matt's truck. Yup, he drugged her tea. "I'm getting you out of town, Elena," he said. "It's the only way to keep you safe."
Armed with the White Oak stake, Alaric methodically checked each storage unit. Rebecca came looking for Damon and the coffin. Uh oh. But Damon found her first, and shut her up, just in time. They got the coffin out the door just as Alaric pulled up the gate on that particular unit. But he was right behind them, and he was mad. He managed to open up the coffin and stab and already mostly-dead Klaus with the deadly stake. Klaus burst into flames as Rebecca flailed in tears, mourning her the real loss of her brother.
Damon called Stefan and told him what happened. If they really were sired from Klaus's bloodline, they had about an hour before they got sick. "Not enough time for our epic good-bye." But Stefan didn't mean their own good-byes, he meant Damon and Elena's. That's when Jeremy told Stefan that they'd kidnapped Elena.
Matt told Elena about Klaus, and she wanted to head home. But Matt told her that Damon wasn't with them. "I can keep driving to him," he said, "or I can turn around. It's your choice." She called Damon immediately. "I'm sure we'll have a laugh when we find out Klaus is a big, fat liar," he said. So she told him. "Matt's taking me home. Not just to Stefan. To Tyler. To Caroline." She'd met Stefan first, she said, and that had made all the difference. Damon asked her: "If it was just down to him and me, and you had to make a choice, who got the good-bye, who would it be?" She didn't even have to think before she answered. "I love him, Damon," Elena said. "No matter what I feel for you, I never un-fell for him. I care about you, Damon, which is why I have to let you go."
That, of course, is when Alaric showed up. He was viciously beating up Damon, who flashed back to his first moment with Elena, on the street, right before her parents' accident. "Catherine," he had said. "Sorry, you just really remind me of someone." She told him it was creepy that he was out here by himself. He said the same to her. "It's Mystic Falls," she said. "Nothing bad ever happens here." She lamented her relationship with Matt, the monotony. He told what she really wanted: "A love that consumes you, passion, and even a little danger." That's when her parents arrived. So he glamoured her, telling her to forget that they'd ever met. That they'd met first.
Caroline met up with Tyler, and she told him about Klaus's untimely demise. "You're going to be fine, Caroline. I'm a lost cause, but you're strong, and you have a beautiful life ahead of you." That's when it hit him, the pain, sharp and deadly. "Get out of here," he told her. "I don't want you to watch me die." He was turning, and he was gone.
Elijah and Rebecca pondered how they'd all survived – although Tyler died – and they knew the Salvatores and the others came from Klaus's bloodlines. It didn't make sense. How could this be? Rebecca called Stefan and said they were going after Alaric. And the only way to get rid of Alaric was Elena.
Cut to: Bonnie and Tyler, together in the caves. "I must say you really did that spell brilliantly," Tyler said. "I didn't think you had it in you. The spirits won't be happy with you." Bonnie chafed. "The spirits don't get to tell me what to do anymore. I did it because we wanted to." A-ha!
Matt and Elena were still in the truck, driving over that same bridge where she lost her parents, where she met Stefan that first time. They swerved to avoid hitting someone – Rebecca – on the road, ending up in the river. Elena flashed back to that accident with her parents. She remembered that night, as she tried to revive Matt, and there was Stefan, again, to the rescue. She insisted he take Matt first.
Just as Alaric was about to stake Damon with the White Oak, he decided to fight back. And then Ric was consumed by pain, going grey like so many before him. "No, no, what's happening," Damon said. "You're not dead, you're not dead." Because that would mean….
Alaric showed up at the Gilbert house as Jeremy was on the phone leaving a voicemail for Matt, trying to get answers. Jeremy wasn't pleased to see him. "Haven't you done enough?" he said. But it was the real Alaric. "I just waned to say good-bye. I just wanted you to know. I will always look after you, Jeremy." That's when Jeremy realized Ric was a ghost. "If you're dead, that means Elena…"
At the hospital, Stefan sat by her body, mourning. 
Damon arrived, livid. Dr. Meredith Fell told him that when Elena was brought to the hospital that morning, things were way worse than she had told them. She'd had a cerebral hemorrhage, and she would have died. So Meredith helped her. With vampire blood.
And that's when Elena came back to life. Undead.

Agh! How are we ever going to last till September for season four? I'm still mourning Alaric, but things are never dead for long in Mystic Falls, right? And the Tyler twist and Elena's undead-ness will definitely make for an interesting new season. 
What did you think of the season three finale?