'Pretty Little Liars' Talking Points: A Run-In With 'A'?
10 'PLL' plot points you need to know to get by at the water cooler this week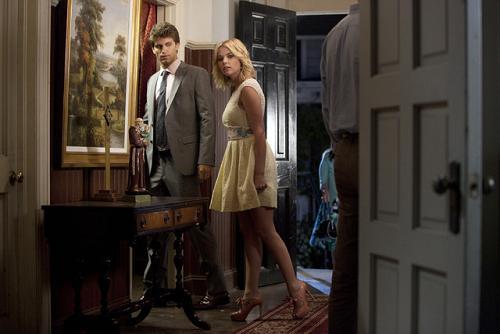 Last week on "Pretty Little Liars," Spencer intercepted a note that Garrett Reynolds – on leave from his arrest to visit his coma-ridden mother – left, for A presumably, in the hospital. "April Rose has the proof," it read.

Bing: More on "Pretty Little Liars"
This week, the girls planned to trick their "Gossip

Girl"-from-the-grave​

stalker A into a run-in by swapping the note for one of their own. The meeting place: Rosewood Church's main sanctuary by the organ. Spencer said it would be Lucas, and Hanna said she's show up to finish what she started with the paddle at the lake. What happened to the mope, heartbroken girl who wouldn't get out of her sweats? "She traded them for fatigues," Hanna retorted. "This A broke me and Caleb up, do you understand? They're gonna have to pay for that." Of course, when Hanna went in to slip the note back into the medical bracelet, Mrs. Reynolds seizured and flatlined. Oops.
At Spencer's, she googled April Rose while Toby told her about this construction job he did that turned out great. Then he distracted her with, uh, other things, but her dad showed up. Her dad said the physical evidence on Garrett was tainted, so that meant he'd likely be off the hook. Spencer stormed off – to meet Jason. But dad followed her, and he was not happy about seeing the two of them together. Spencer asked if April Rose was one of the girls Jason and his crew filmed back in the day. Jason didn't know – but he said he thought Ian and Garrett had help back then. That maybe they were even working for someone else.
Aria was at Ezra's, pondering her first day of work at Laurel's photo studio, when she got a text from the girls about Mrs. Reynolds. She almost bailed on the job, but then Ezra reminded her they were eating ramen. Then she took some sassy photos of him in his PJs with a newspaper. Later, when Ezra was in the shower, Aria was looking for something, and found a massive stash of cash in his sock drawer.
At the café, Hanna told them that there was a party where they'd planned to meet that night. They wouldn't be able to confront A, but they could still maybe see who it was. You know, to be prepared. Then Aria asked Spencer how much the reward money was again – and if it was cash. And would it be weird to have that much cash lying around?
Later, Hanna told her mom it was gross that she was gonna be hanging with the church guy – Goober? – at the dance that night. When mom asked if Hanna wanted a ride, Hanna said Toby was taking her. Wait, Spencer's boyfriend? So she made up some story about a handsy guy at the church who wouldn't take no for an answer. "Just some do-gooder creep, he's harmless." Spencer didn't want Toby involved in all this.
Emily went to the place that donated her jacket – the one from the night she blacked out – to the church. It was a café called Sputnik's – and she recalled seeing Allison there. Then Emily remembered being there that night – the graveyard night – with a man, someone who held her hand, someone with a tattoo on his wrist. And the waitress saying: "She don't look so good. You better get her home before she passes out."
Toby went with Hanna to the dance. Wilden showed up. As Hanna and Toby danced, he asked why they were really there. Then he called Spencer and asked why she lied to him. When Emily arrived, she ran into Aria's pal Holden – and as he offered her a cupcake, saw that it was him – the guy with the tattoo. Turns out it was a temporary tattoo. From a party, one that changed venues. One where he used to see Emily's girlfriend sometimes. But the person bearing that mark on the night Em recalled was definitely male. At the designated time, Hanna hid out in the church pews, hoping to spy A. The person who showed up was Wilden. He had the note. And he asked why she was helping Garrett. "I don't get it, Hanna," he said. "Why are you in his corner?"
Back at Ezra's, Aria told him what a horrible first day she'd had. "I was a little distracted – by what I found in your sock drawer." She asked him where the money came from. He said it was a '67 Jag his grandfather left him. He was embarrassed by it. The fact that he was reusing coffee filters. Wonder what happened to the job he got last week? Also, Aria bought the story, but clearly there was more to it.
Mr. Hastings confronted his son, and asked him to leave Spencer out of this whole scenario. But Jason said he needed answers – and so did Spencer. Then dad said Jason was wrong about Veronica, his wife. She didn't hate Jason. Nope, Jason said, she hated Mr. Hastings. Later, Jason showed up at the Hastings house: "I found April Rose. It's not a her. It's an it." An antiques shop. It was super-creepy. While Jason talked to the shop owners, Spencer perused – and found a charm bracelet that belonged to Allison. She recalled it on her dead pal's ankle one night some summers ago, when Alli ditched her to go get fake IDs and go off to a party. She'd walked off in hooker heels, telling her she was off with a friend Spencer didn't know. Jason paid $400 for the bracelet – which the shop owner didn't recall anyone bringing in. Jason took it to the cops, noting an anonymous tip.
Mr. Hastings told Spencer he knew about the bracelet she and Jason had found. Turns out the cops had been looking for it for two years. And it had traces of blood on it – Allison's and someone else's. But not Garrett's. The cops ruled him out as a suspect. Again, one step forward, two steps back. And then a text from A: "Hey Spencer, I have another surprise for you. Garrett isn't their killer."
Parting shot: our killer, dressed in all black, a bowl of rainbow sorbet by their side, checking out the classifieds, House for Rent.

Who was really with Emily that night she blacked out? What does Holden know. Did Ezra really take the reward money? And what does Garrett really have to do with Alli and Maya's deaths? 
Here's a sneak peek of next week's episode:
"Pretty Little Liars" airs Tuesdays at 8 p.m. ET/PT on ABC Family.