J.K. Rowlings gets TV treatment
BBC to develop adult bestseller 'The Casual Vacancy' into a small-screen series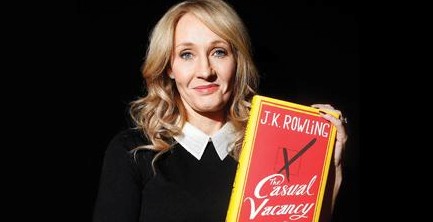 "Harry Potter" author J.K. Rowlings is headed for the small screen -- and this time, it's not another TV movie about her rags-to-riches rise.

The Brit writer's latest tome, the adult bestseller "The Casual Vacancy," will be developed by the BBC into a TV drama, set to air in 2014, the network announced
in a press release
on its website today. Rowling's agent Neil Blair and TV exec Rick Senat will produce the series, while Rowling herself will consult closely on the drama. 
The book received some scathing reviews, despite its bestseller status. Set in the Brit idyll of old town Pagford, the novel explores social issues and class politics in a modern day England with a seamy underside -- with dark scenarios involving rape, suicide, and addiction -- all riveting fodder for a much-watch TV drama, right? 
"I'm thrilled that the BBC has commissioned 'The Casual Vacancy," Rowling said in the release. "I always felt that, if it were to be adapted, this novel was best suited to television, and I think the BBC is the perfect home." 
"The Casual Vacancy" will premiere on BBC1 in 2014.