AMC Creates Own Zombie Presidential Candidate
Basic-cable network drums up buzz for 'The Walking Dead,' takes more digs at DISH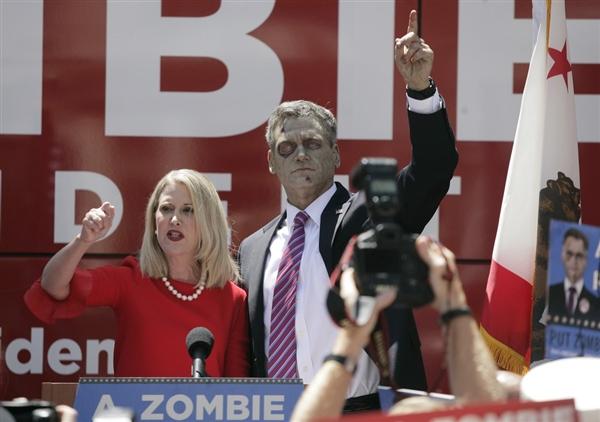 The battle between AMC Networks and DISH has hit a dead end -- a dead zombie end.
In a publicity stunt that drums up buzz for the third season of the network's top-rated zombie drama, "The Walking Dead," and helps in its ongoing fight against the cable provider, AMC Networks has created its own independent presidential candidate. Named A. Zombie, the animated corpse has a single platform and that is to return AMC, WE tv, IFC and the Sundance Channel back to DISH subscribers. 
Bing: More on A. Zombie | The AMC Networks and DISH dispute
And you thought those ads where the baritone narrator angrily says "DISH no longer carries AMC" were annoying.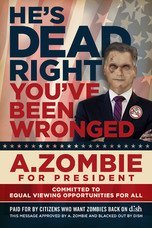 AMC first launched A. Zombie's campaign on Monday, and the movement is already generating steam. Publications such as USA Today and The Dallas Morning News and web sites like MSN Money, Yahoo Finance, The Futon Critic, Huffington Post and Monsters and Critics have dedicated space to the, um, brain-dead politician.
There's even an A. Zombie campaign trail  which started in San Diego and will continue in Dallas Friday as well as Tampa, Fla., and Atlanta next week. Rallies include a campaign bus, marching bands and zombie supporters.
As for DISH, it dumped AMC Networks back in July because fees associated with a new contract weren't cost effective for its subscribers. But AMC Networks says DISH dropped its channels because of an unrelated lawsuit. 
Plus: The best zingers on HBO's 'True Blood' | Our favorite reality TV catchphrases
Whatever the reasons, if the negotiations between the two aren't remedied by October, DISH customers will be without the third season of "The Walking Dead" and have already missed the first half of the fifth and final season of "Breaking Bad."
"The Walking Dead" returns for a third season Sunday, Oct. 14, at 9 p.m. ET/PT on AMC.