Maurice Benard Talks 'General Hospital' and Sonny
Soap vet dishes on the new regime, crazy Connie and being the kiss of death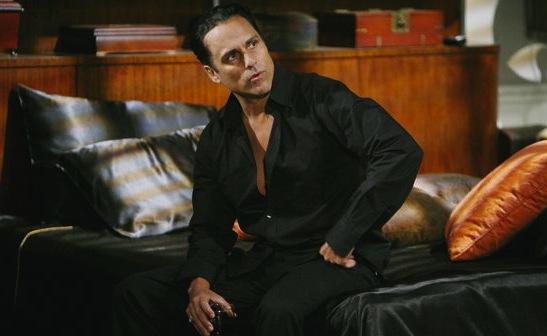 Sonny has been through hell and back with Kate this summer. If Joe Jr. (Richard Steinmetz) has anything to do with it, that drama isn't close to being over. Before the next storm hits, however, there's a bit of romance on the horizon. Sonny is gearing up to ask Kate to marry him! MSN TV caught up with Maurice Benard (Sonny) to talk about his controversial character, the Kate/Connie breakdown and the impending showdown with Joe Jr..  
Bing: More about "General Hospital" | Maurice Benard
You've been playing mob boss Sonny Corinthos since 1993. Have you seen a change in him since executive producer Frank Valentini and headwriter Ron Carlivati took the reins at "General Hospital"?
I love the way they've affected him. They're writing Sonny as a man, as opposed to a mafia guy or a killer with a good heart. He's just a well-rounded man. And he's still badass - I went off, today! Sonny just thinks a little more, especially with the woman he loves. He tries. And they tell me during scenes, "Not so big. Be more supportive." Wow, they never told me this, before. It's changed. I'm into it and I think, as far as I can see on twitter, [the fans are] all into it. A year ago, the fans on twitter hated everything I was doing. They hated the show. It was like, "Why is this happening? This is stupid!" Now, it's all positive.
Do you feel the difference onstage?
Well, the pacing [of shooting] is not good. Ugh! You've got to do it like that [snaps fingers]. That drives me nuts, but we do it. When you watch the show, because of Frank, it's fantastic. He knows how to edit, he knows lighting and it just moves. It's now more an ensemble than a one-man show. You would think I'd have a problem with that: I don't. As long as it's good, I'm good. If it wasn't good, I'd say, "Something's not working," but it seems to be working.
Frank is teasing big story for fall. What's coming for Sonny?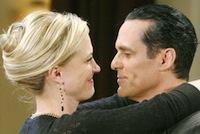 Sonny is going to propose to Kate [Friday, Aug. 10 and Monday, Aug. 13]. Oh, when you see the proposal! It was just amazing. It was more like real life conversational. Tears were popping out of her. It was like, "Wow. This is the way I want it." 
I love that Sonny's more balanced, as opposed to three days of writing that and then he's killing somebody. I love that it hasn't been a lot of mob stuff. But there's some cool stuff coming up with Joe Jr., who raped Connie. I did some scenes with him today. Wow! I love that, because we have history. With Connie's breakdown, it's been a beautiful connect the dots, hasn't it?
When MSN TV talked to Kelli Sullivan a few months back, she promised the Kate/Connie split personality story would get intense and she really delivered. Fans aren't always welcoming to a recast, but after a performance like that, it's hard to slam her.
You put anybody with me, it's the kiss of death, from what I hear. (laughs) The only reason this didn't go that way is what she can do. What she did with that Connie thing was scary! I thought there was somebody else in font of me, at some points. She shut people up and thank goodness. You can say what you want about her, but you can't say she can't act! You'd be a little stupid. I'm very happy.
Do you feel threatened that someone else in Port Charles does crazy so well? That's always been your territory as Sonny.
Oh yeah, a little threatened! (laughs) I can do crazy well, but she pulled something out that I'd have to research a lot to do. I think I could become somebody else, but she actually did it! She's so humble. It's great.
Plus: Reality stars that need introductions | 'Dancing With the Stars' All-Stars
Do you think Sonny and Kate can make it this time?
Yeah, I think they can, because they're both mentally ill. So they're just crazy together. I had a line to her about that, "I'm crazy: You're crazy. That's why we fit."
How will Sonny handle the impending face off with Joe Jr.?
It's a bit of a different Sonny. He's not as, "I'm not listening to anybody: I'm going to kill you!" He's more, "How do I do this differently, even though I want to kill him?"
With Frank teasing big returns, is there anyone you'd like to see come back to town?
I'd like to see Ron Hale come back to play my father, Mike. Vanessa Marcil to come back for a triangle. That would be fantastic, Brenda, Kate and Sonny.
Was it hard to let Vanessa go again, after the last visit?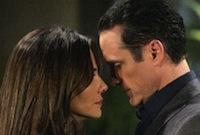 My last scenes with her were hard, because I knew it was my last. It was tough, but people move on. With Vanessa, it's all good, because she's going to do better things. People sometimes ask if I'd like her to come back: I love working with her! As long as it's in a triangle, and not, "All right, now she's back and let's just get married, but I don't love this or that." I don't dig that. Sonny loves deeply. If you're going to bring someone in for a triangle, you better make it fun for the three of us.
How have you felt about the "Mob Princess" reality TV storyline?
That's whatever that is. What I liked about it is it's [relevant]. That's what's going on these days. I've never done reality TV. I don't think it's my favorite thing, but you've got to do what's now.
Speaking of, we can't let you go without asking if you'd ever do "Dancing With the Stars"?
I can dance, but no. It's just way too much pressure. Live! I've been on that set and let me tell you, it's a mother! 
"General Hospital" airs weekdays on ABC.