Katie Couric Delivers Invites to Her Premiere
What to expect from ABC syndicated talk show
Katie Couric
is passing out personal invites to her Monday, Sept. 10, daytime premiere in a new TV commercial for "Katie." ABC's live syndicated talk show will feature newsmakers, celebrities and everyday people and is looking for audience members in New York. 
The former "Today" and "CBS Evening News" anchor said her show "Katie" was "still a work in progress" when she hit the TCA press tour on July 26. Couric, who is excited to work with a live studio audience for the first time, does know that she plans to take on a variety of hot topics, from serious events like the recent Aurora shooting to lighter issues like dating in your 40s and 50s.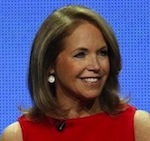 "The exciting things for me about doing the show is I'm going to be able to flex all my muscles," Couric said. "I've been in television news, I'm sorry to say, 33 years at this point. And I think that I've done such a variety of stories through the years. Some lighthearted stories, some fun stories, some celebrity driven stories. And then I've done very serious stories.... I hope that people expect me to have the ability to tackle a lot of different subjects well." 
Couric isn't just inviting daytime fans to come to the party. She's also invited Barack Obama and Mitt Romney. "I have invited both candidates and their wives and anyone else in their family they would like to bring," she revealed. "And yes, I have invited Sarah Palin to come on the show as well."
Plus: Life after 'Friends' | Memorable TV roommates
None had taken her up on the offer, yet, when MSN TV caught up with her. We got up close and personal with Couric after the big press panel, so stay tuned for more on what to expect from her show. 
In the meantime, "Katie" is looking for topic suggestions for the show and hawking tickets via the show 
website
. Couric has also been releasing regular videos, including this silly clip of her singing songs from her iPod: 
Look for "Katie"-related promotion to increase exponentially over the coming weeks, as Couric is set to enter a very crowded daytime market. "Katie" premieres on the same Monday as new shows from 
Ricki Lake
 and 
Jeff Probst
, not to mention the new seasons of
"Ellen,"
"Anderson"
 and "The Wendy Williams Show."
Trisha Goddard
's new talk show premieres Sept. 1 and 
Steve Harvey's show
 lands on Sept. 4, along with the new season of "The View." Marie Osmond joins the lineup Oct 1. 
"Katie" premieres Monday, Sept. 10, in syndication.