'30 Rock' Live: 10 Things We Learned
Alec Baldwin's renaissance act, Paul McCartney's bladder and more highlights from 'Live From Studio 6H'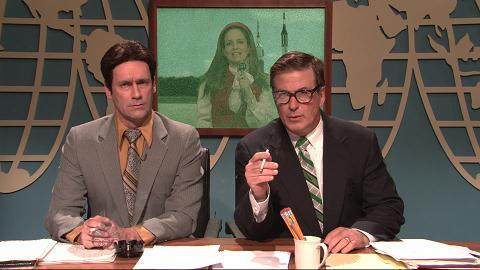 It'd been just over 18 months since "30 Rock" first aired live. Coincidentally, that's roughly the same-length gap between Seasons 4 and 5 of
"Mad Men,"
which made Jon Hamm's return to Tina Fey and company for "Live from Studio 6H" even more appropriate. 
Of course, the man alternately known as Don Draper wasn't the only big name to appear during Thursday night's generally hilarious, not entirely quirk-free episode. Everyone from
"SNL"
alumni like
Jimmy Fallon
and
Amy Poehler
to
"Community"
favorite
Donald Glover
and universally beloved
Sir Paul McCartney
popped up for flashbacks, non-sequiturs and decidedly sketch-y bit parts. 
"Live from Studio 6H" was, in many ways, Fey's tribute to her "Saturday Night Live" skit-writing beginnings, and in turn, the way live television shaped her sensibility and drive to be a part of Lorne Michaels' venerable enterprise (let alone her own prime-time spin-off satire of it). But under that umbrella, there were a ton of fleeting gags, recurring themes and terrific ensemble comedy. So in case you missed it, or just want to relive it, here are 10 things of note that we learned while watching "Live from Studio 6H."
Alec Baldwin is the best "SNL" host "30 Rock" ever had.
Kristen Schaal, and all the secondary players (Chris Parnell et al.), really shined, showing off what all-around performers they can be. Hazel would be proud.
OK, so by contrast, Fey's not a world-class actress. But let's see any of her surrounding thespians write meta-gags and goofy asides with her panache. 
Ah, so Danny's (Cheyenne Jackson, welcome back) been in a foreign prison, and it's somehow Jenna's fault. Best soap opera-y excuse for a character's disappearance ever.
Pete should always have his hair trimmed that close.
If Sue Galloway (aka generally little-seen "TGS" writer Sue) keeps gettin' the giggles like that, she may not be invited to next year's live fiesta.
Although Fallon can break up and giggle all he wants. It's kind of his deal.
Does anyone handle

racial/cultural/gend​er

humor better than "30 Rock"? (Hint: No.)
Even Alec Baldwin can get distracted by McCartney. Or the idea of a Beatle peeing in the other room.
It's always great that Fey challenges herself, and "Studio 6H" really hit its stride by the end, but we're sort of looking forward to its usual pre-taped quickness next week. You?
"30 Rock" airs Thursdays at 8:30 p.m. ET/PT on NBC.