'Young and the Restless' Power Shake-Up
Jill Farren Phelps and Josh Griffith in, Maria Arena Bell out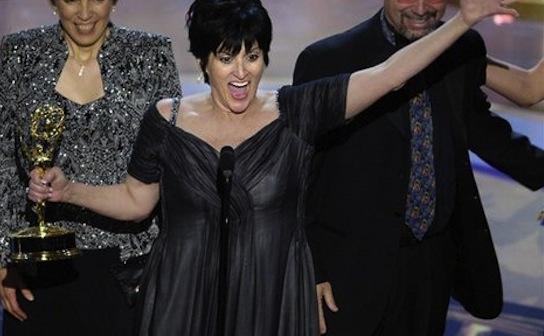 Sony announced big changes at "The Young and the Restless" late Thursday, July 26. Jill Farren Phelps has been named Executive Producer of daytime's top drama, while Josh Griffith steps back in as head writer. This followed much web speculation and means Emmy-winning showrunner Maria Arena Bell is out.
Bing: "The Young and the Restless" | Jill Farren Phelps | Josh Griffith | Maria Arena Bell
First news of the changes came when "The Young and the Restless" co-head writer Scott Hamner revealed he was stepping down. This was quickly followed by buzz that Jill Farren Phelps, executive producer of Sony's Hollywood Heights and former executive producer at "General Hospital," "Guiding Light" and "Another World," was in talks to take the reign from Arena Bell. There was also buzz that her co-executive producer and former daytimer Josh Griffith would follow.       
Then, around at 3 p.m. ET, Sony quietly dropped a release making the buzz official. Maria Arena Bell, a member of daytime's Bell dynasty, is out. Farren Phelps and Griffith are in. 
"We are excited to have such a talented daytime veteran leading our team at 'Y&R,'" Steve Kent, Senior Executive Vice President, U.S. Programming at Sony Pictures Television said in the release. "Jill has a stellar record of success in the daytime genre. We are also happy to welcome Josh back to 'The Young and the Restless' and are looking forward to his creative input and ideas."
"On behalf of everyone at 'Y&R,' we extend our sincere thanks to Emmy Award-winning Maria Bell for her contributions to the show over the last five years," he added. "We wish her the best of luck and continued success."
Phelps has been nominated for 14 Daytime Emmys, taking home seven (1988, 1990, 2005, 2006, 2008 and 2012). Her most recent run in daytime left "General Hospital" fans divided. Many were thrilled to see her let go during the regime shakeup that brought in "One Life to Live" team of Frank Valentini and Ron Carlivati, but that is often the case with soap fans, who are known to have volatile relationships with showrunners. 
Also: Emmy snubs and surprises | Photos: See this year's Emmy nominees

In fact, there has been a movement to get Arena Bell ousted from "The Young and the Restless" for some time, as well. Arena Bell has been with "The Young and the Restless" since 2007 and also lent her hand to the script and wardrobe departments at "The Young and the Restless" and sister show "The Bold and the Beautiful" from 1989 to 1992. 
New head scribe Griffith has four Emmy Awards and four Writer's Guild Awards, with credits from "As the World Turns," "One Life to Live," "Santa Barbara," "Sunset Beach," "General Hospital," "The Young and the Restless" and "Hollywood Heights." During his time as head scribe at "The Young and the Restless, which coincided with the 2007 to 2008 Writers Strike, he was also executive producer.
This big behind the scenes change has fans clamoring over who might go next. The new regime will likely clean house, shaking up that cast.
MSNTV's interview with Arena Bell has been delayed, but stay tuned for her comments. 
"The Young and the Restless" airs weekdays on CBS.