'General Hospital' Q&A: Julie Berman Talks Marriage
Lulu is facing her biggest fear this Halloween: Commitment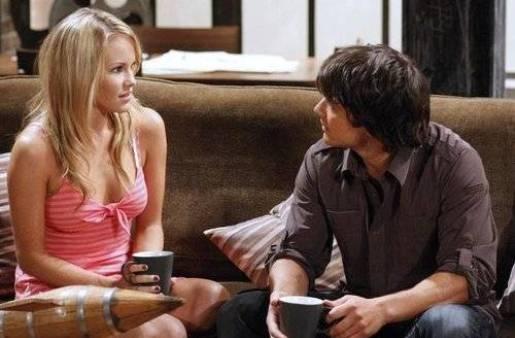 Many "General Hospital" fans see Dante and Lulu as a match made in heaven, and Dante can't wait to share the news of their secret engagement. Lulu, however, may not be able to get past her fears to make the big announcement, let alone make it to the altar. Julie Berman talks to MSN TV about her character's commitment issues, whether or not Lulu and Dante can get past them and her own dream for a fabulous Port Charles wedding.
Bing:
Watch clips and episodes of 'General Hospital'

MSN TV: Sonny's bon voyage dinner for Kristina seems an ideal time for Lulu and Dante to announce their engagement, but Lulu is getting more and more nervous about the whole thing: What's going on with her?
Julie Berman: She loves him, but she's not sure she wants to marry him, because of his career and her fear of completely investing in someone she can lose. Then that falls into her other problem with marriage, as an institution itself. She's grown up with a lot of questions about marriage and whether it's really special, really means anything or is necessary.
Obviously, relationships in Port Charles don't last, so she's right to feel skeptical, but deep down in her heart, she would love to get married and have it last forever. There are a lot of things she needs to accept, including the potential for things to not end happily ever after, and that's hard for her.
Did Lulu's chat with Sonny send her over the edge?
In all honesty, he of all people honed in on what was going on and called her out on it. She spoke with Maxie about her fears, but it was very vague. She didn't want Sonny to be the one to give her advice, but a lot of what he said is exactly what she's thinking. If she's too afraid to get married, she should end this now and not drag it out any longer.
What will it take for her to move forward?
Lulu and Dante have no idea. That's the problem. There's the option that Dante takes a desk job, so she feels he's a bit safer, but Dante might start to resent Lulu for the rest of his life. It's a tricky situation, and it's also not easy to talk about as a couple. The question of "How much do you love me?" comes up, [but] that's not what it's about. Personally, I think it's about accepting that life is going to deal you cards and you've got to let the chips fall where they may, but it takes time to accept something like that, because it's not how she's wired.
The Spencers are, however, wired for addiction, and Lulu has been turning to alcohol a lot lately…
I don't think they've been very subtle with that idea. (laughs) It seems to be an easy check out for her when things get a little overwhelming, especially with all the confusing feelings she has right now over her relationship. The alcohol is just a quick fix. She doesn't think there's a major problem with it, but it's not normal for her, so she's being a little secretive about it.
Which sounds like a problem in the making: How do you feel about possibly playing an alcoholism story down the line?
I always love playing that kind of stuff. The only thing I worry about is how it will be executed. We've seen this alcoholism story many times, with many characters. I would hate for it to be an obvious, repetitive beat. I would love to play it if it was compelling and a little different than what we've seen before.
Would you like to see Lulu overcome her fears and get to the altar?
That would be awesome. I would love to have a huge wedding, because it would be cool to say, "Yep, I had my soap opera wedding." That's a goal I hope I get to attain, but these days, you never know what's going to happen with the future of soap operas. My time might run out.
Does that sentiment change the way you approach story?
No, no. I think about that, but when I go to work, I'm doing the work like every day is my last day, and that's how it's been since I started. There's a big level of commitment to every script I get: whether I feel I have 20 years of two days, I'm committed to making everything wonderful.
What can you tell us about the new rumors about you're leaving the show?
I don't even know how these rumors start. My first thought is, "Who is the person that comes up with this stuff and what joy does it bring to them?" So no, I'm not leaving. I'm still on the show and I'm very happy. I've always enjoyed working on the show, and we have a great cast right now. It makes it fun to go to work.
Back when you first came to "General Hospital," did anyone take you under their wing?
Not really. I was pretty comfortable, right out of the gate. I didn't need a lot of hands on guidance. Some of [the newer cast members] get it and it almost screws them up, so I'm happy I didn't have that. Over time… I do have those kinds of people at my disposal now. I can go to Tony (Geary), Jane (Elliot) and Laura Wright. They have worked in this medium for a long time, and I value their opinions. They're people I love and value a lot in my life.
Before we let you go, fans are dying to know when you and Dominic Zamprogna (Dante) will have an event. Anything on the agenda?
We don't have anything set. We've talked about it, and truly, it's difficult. My lifestyle is becoming a bit more overwhelming and crazy, because I have this job and a [dog bed] side business, as well. It's not as easy as is used to be to pick up and schedule things in advance. I know fans are crazy about it happening, but at this point, I can't guarantee anything. That's just the way life is, unfortunately.
"General Hospital" airs weekdays on ABC.
Are you sure you want to delete this comment?