Don Draper and 'Mad Men' grow old together
Executive producer Matt Weiner discusses his drama's leading man in Season 6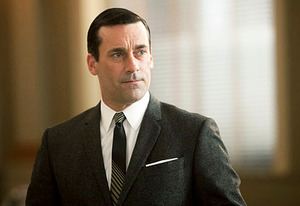 Matthew Weiner, the mastermind behind "Mad Men," won't say what year it will be when Season 6 of his beloved drama returns.
He will only say it will be the late '60s -- that only leaves 1968 and 1969, really -- and that the show's leading man, Don Draper (Jon Hamm), will keep evolving amid the period's social upheavals. "Mad Men" roars back April 7 on AMC.
Bing: More on 'Mad Men' |  Jon Hamm
"There's a version of that story out there, and some of it was even told at the time," Weiner told TV Guide  about portraying the late 1960s. "I didn't know the show would go on this long ... So I'm always focused on what I can control, which is, what it's like to be Don's age and the story of the generations.
"Every character has a specific age on this show, and that's really useful to me," Weiner said. "I don't want the show to be a history lesson. The job of the show is to show how these events affect our characters. Intellectually it's been very interesting to see how history really does interact with our daily life."
Plus: TV's biggest interview reveals | 25 ugliest 'Project Runway' designs
Weiner added that Don's marriage to Megan (Jessica Pare) will also serve as a mirror of the times and a barometer for how far Don may or may not have come.
In the Season 5 finale, Don drank alone in a bar filled with beautiful and tempting women but Season 6 photos show the pair together in Hawaii. Weiner also said fans can expect the return of Peggy (Elisabeth Moss), Betty (January Jones) and the rest of the cast.
"As the season went on and Megan began to express her own desires and ambitions, it was a real blow to Don and didn't jibe with what his fantasy of this relationship was meant to be," Weiner said. "Maybe Megan wasn't exciting to him once she wasn't completely devoted to him anymore. But it ain't over. What was interesting to me was to see that journey of us taking his relationship seriously with her, and what the reaction was from the audience."
"Mad Men" Season 6 debuts Sunday, April 7, at 9 p.m. ET/PT on AMC. The show moves to 10 p.m. ET/PT, beginning April 14.