Trouble is coming to 'The Young and the Restless'
Newcomer Jhoanna Flores previews the arrival of Noah's mysterious ex, Adriana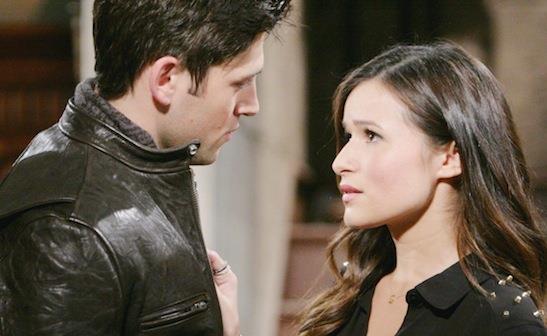 "The Young and the Restless" has been setting the stage for the arrival of Noah Newman's New York City girlfriend, Adriana, for months. In November, Noah's mysterious ex sent him a duffel bag full of cash. Then, Detective Alex showed up in town asking questions about her, which led to the reveal that Noah ended things with Adriana after he caught her getting freaky with another guy.
Bing: More about "The Young and the Restless" | Jhoanna Flores
Hold tight Genoa City locals, because Adriana finally makes her grand entrance on Friday, Jan. 4, and she sounds like trouble. Newcomer Jhoanna Flores opened up about what it took to land the role and what to expect from her sexy, sassy new character. 
Plus: TV hipsters | TV resolutions for 2013 | Reality dramas of the future
MSN TV: How did this role come together for you?
Jhoanna Flores: I can't say it was easy, but it was the traditional route. My agent saw them casting this role. First call, second call, first test with the network. Then I got the call that they wanted to test me again [and that I should] wear a little more makeup and look a little more mature. I felt like it was every beauty pageant queen from South America! It was a little discouraging, but I booked it a couple days later, so it was completely worth it.
Who did you audition with?
I read with Robert [Adamson] as Noah. I think they were really going for the chemistry between the two characters. In the scene, my character has to be seductive and [was] supposed to kiss him. Before we walked in, this girl's like, "Do we kiss him?" The casting directors were like, "No! That would just be gross." But we had to act like we did and look him in the eyes and touch his neck and his chest. He did it very gracefully.
How many beauty queens did he get to do that with?
Right! (laughs) There were five different girls at each test. I'm sure he loved it!
Were you familiar with "The Young and the Restless" before this?

I watched telenovelas with my grandmother when I was younger. We could never touch the remote! (laughs) The funniest thing is, knowing nothing about the show, the first episode I watched on CBS.com was Noah receiving a package and getting a letter saying, "Please keep this safe. Love, A." I'm like, "I'm not filming for three weeks! Did I miss something? How is he already seeing this package?"
After all that buildup, how was your first day at work?
In my first scenes -- in my first hour! -- I'm making out with a guy and straddling him on a couch! This was my first onscreen kiss. It was great, because they just threw me right in there and it's getting easier every day. Everyone is so nice and Robert is great to work with.
What can you tell us about your character?

Seductive, manipulative, and she is after Noah. She's just bad news. She comes with some trouble under her sleeves. You don't know what her true motives are. The relationship between her and Noah will excite viewers.
Noah has a pretty big family. Has Adriana run into any of the Newmans yet?
No. You do see them talking about me, because they know I'm back in town. The only other person I've had a scene with so far is Ignacio [Serrichio], who plays Alex. He's great. The first day we met, we talked about our characters and where they're going. We got it done in one take. He's great and professional and really funny. He cracks jokes the whole time. It lightens the mood.
You've characterized Adriana as seductive and trouble. Is there anything redeeming about this girl?
At first, you see a lot of trouble and manipulation, but Noah is so forgiving for her. You definitely see the moments where she's like, "Wow, he really cares about me." But at the beginning, I'm expecting most girls who have crushes on Noah to hate me. I'm waiting for it. I know he has a huge fan base and they are going to not like me!
"The Young and the Restless" airs weekdays on CBS.