'Justified' executive producer teases new twists
Graham Yost tells viewers to expect more mystery, new characters in Season 4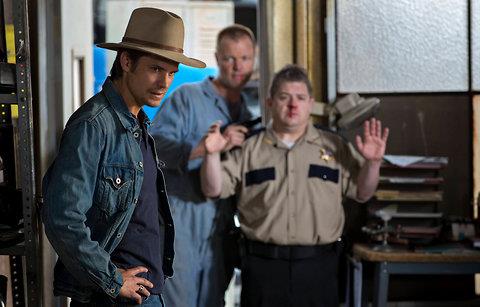 Fans of "Justified" can expect more action and mystery when the crime drama returns for a fourth season Jan. 8.
That's because Deputy U.S. Marshal Raylan Givens (Timothy Olyphant) will be tackling his personal demons -- the fact that his dad meant to kill him, for starters -- and tracking down a criminal, from a 30-year-old cold case, who was thought to be dead but probably isn't.
Bing: More on 'Justified' | Timothy Olyphant | Graham Yost 
"We're doing a couple different things this season. One is that we open with a flashback to what happened 30 years ago, loosely based on something that did happen around that time, called the Bluegrass Conspiracy," said Graham Yost, the executive producer behind "Justified," in TV Guide magazine. "What we decided to do this season was have more of a mystery and, in a sense, a big fugitive pursuit. They don't know who he is, so there's that mystery to solve, and then it'll go on from there." 
Plus: The Golden Globes game | Most memorable 'Bachelor' and 'Bachelorette' moments
Because the show is going in a new direction, Yost also said fans probably won't see their favorite secondary players, Dewey Crowe (Damon Herriman) and Dickie Bennett (Jeremy Davies).
"There are opportunities, because Arlo's (Raymond J. Barry) in prison this year, that we could have seen Dewey, but it's like, we don't want to just see Dewey, we want to have an episode about Dewey. And similarly with Dickie Bennett, who is probably not going to appear this year."
But fear not. Wynn Duffy (Jere Burns) will be back and Patton Oswalt, a long-time "Justified" fan, is joining the show as an overzealous new character named Constable Bob.
"Two of our writers went down to Harlan and went to a snake-handling church and looked into a couple other things we were interested in, and got a lot of really cool information," Yost said. "Some of the stuff they came up with pops up in our first episode. They'd heard about this position in Kentucky -- in every county there's a constable -- so we came up with this character."
"Justified" Season 4 premieres Tuesday, Jan. 8, at 10 p.m. ET/PT on FX.