Jack Osbourne Discusses MS Diagnosis on 'The Talk'
Fiancée Lisa Stelly also gets in on the conversation
Jack Osbourne and his fiancée Lisa Stelly came to Mrs. O's show "The Talk" Wednesday, June 20 to discuss how they are dealing with his recent multiple sclerosis diagnosis. Osbourne was greeted by chants and applause when he joined his mother and the cohosts at the table.
Bing: More about Jack Osbourne | Multiple Sclerosis  
"Honestly, I'm fine," Osbourne told the audience. "Ultimately that is the toughest thing with this disease that I'm learning, one minute you can be fine, and the next I went blind in my right eye. It's a completely unpredictable disease."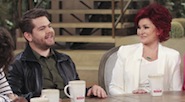 That unpredictability meant he wasn't sure his eyesight would return, but thankfully, it has, for now. 
"It's back to about 80% now," Osbourne said. "They don't know if it will ever improve beyond that, but everyone's different. Some people are left with a blind spot, some people return a 100%, some people never even get anything back, so it's hit or miss."
Plus: Here comes the pride | Also: Summer reality TV fare | TV's top dads
During the visit, Osbourne and his fiancée discussed MS with the hosts, reminding viewers the disease is not a death sentence. They also discussed how he was diagnosed (after an incident filming his upcoming Syfy series "Haunted Highway," premiering July 3) and the alternative treatments available.
While Mrs. O. was in tears over the news on Monday, Osbourne's fiancée is hoping the upside of the diagnosis will be Jack's new healthier lifestyle. The couple also noted it helps to have the distraction of their 2-month old daughter, Pearl. 
"I think me and Jack are doing better than everyone else, honestly," Stelly admitted. "We're just really trying to stay positive and we don't really have much time to be sad, because we have a diapers to change and a little girl to look at and smile at. We're just having fun. He's going to be okay." 
"The Talk" airs weekdays on CBS. 

I want Jack to know that I was diagnosed over thirty years ago and am completely normal. It affected at first, my eyes, walking, balance, etc. I had an old fashioned doctor who said it's an inflammation so lets take aspirins to make it go down and stay down. I took 26 a day with Maalox to coat the stomach. I also took hot sitz baths. When I was tired, I lay down for 15 minutes and got right back up. You can beat this Jack, I did. By the way, he said to never let anyone touch your spine again. What he meant was that , you know you have it...you don't have to have any more invasive treatments. I haven't seen my neurologist in years. Best of luck...you too will get well like I did. 
Are you sure you want to delete this comment?