Look Who's Talking in Daytime: Sept. 17 to Sept. 21
Mitt Romney, Michelle Obama, Emmy talk, prime-time premieres and rocking performers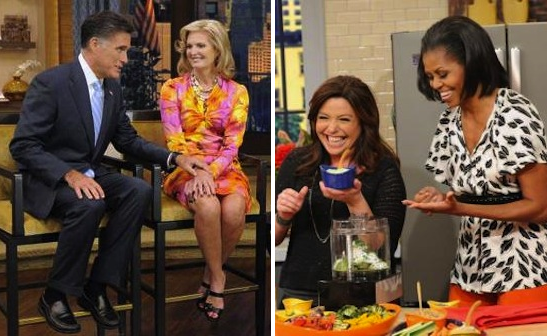 The heavy talk show competition means another round of A-list star and rockers coming to daytime the week of Sept. 17, not to mention Mitt Romney and his wife Ann, and First Lady Michelle Obama. Prince, Wyclef Jean, Fergie, Jake and Maggie Gyllenhaal, Kellie Pickler, Clint Eastwood, Ricky Gervais, Paul Rudd, Ed Asner, Emma Watson and "50 Shades of Gray" scribe E.L. James are coming to chat. Jimmy Kimmel talks Emmys, and prime-time stars are chatting up the returns of "Homeland," "The Good Wife," "Scandal," "Boss," "Parks and Recreation," "Two and a Half Men," "Up All Night," "Raising Hope," "Dancing with the Stars," "The Amazing Race" and "Flipping Out." Plus, look for scoop on new series from Mindy Kaling ("The Mindy Project"), Lucy Liu ("Elementary"), Michael Chiklis and Dennis Quaid ("Vegas"), Michael Urie and David Krumholtz ("Partners") and Janet Montgomery ("Made In Jersey"). The Killers, Carly Rae Jepsen, Neon Trees, Nelly Furtado, Richie Sambora, Josh Turner, Psy, Easton Corbin and Vanilla Ice perform.
Bing: More on Rachael Ray |  Trisha Goddard 
"The Rachael Ray Show" premieres a new studio this week, while Trisha Goddard enters the fray Monday. The UK's "Queen of Talk" will kick off her new show "Trisha" with an episode about abusive men, followed by a week that takes on sex, lies and family secrets; troubled teen mothers; sexy job feuds; and adult children seeking paternity answers.
While "Katie" premiered with a bang, "The Jeff Probst Show" isn't getting as  much attention. Those looking for a daytime pick up, however, might want to give the uber positive "Survivor" host a chance.
Plus: Geeking out on 'Lost' alums | TV shows that should be movies

"Steve Harvey" is also performing well in the ratings. Harvey and "The Ricki Lake Show" aren't about celebrity name-dropping, so they don't make this list, but they do have plenty to talk about. Marie Osmond joins the lineup Oct. 1. 
 Schedules are subject to change.
"Anderson"
Mon: Co-host Tamar Braxton; Emma Watson, Long Island Medium Theresa Caputo
Tues: Co-host Deborah Norville; Damien Echols of The West Memphis Three
Wed: Co-host Cyndi Lauper, Jon Cryer, cast of "Bayou Billionaires"
Thurs: Co-host Maria Menounos, Claire Danes, Tom Bergeron
Fri: Co-host Retta; Jake Gyllenhaal, Michael Pena, Justin Bieber's Mom Patti Mallette
"Ellen"
Mon: Bethenny Frankel, Kellie Pickler
Tues: Clint Eastwood, Pattie Mallette; Carly Rae Jepsen talks and performs
Wed: Michael J. Fox, L.A. Reid; Psy performs
Thurs: Amy Poehler, Ricky Gervais
Fri: Dennis Quaid, Jenna Dewan-Tatum 
"Good Morning America"
Mon: Clint Eastwood, Cyndi Lauper, BHS at CMA Music Festival, Rachael Ray
Tue: Barbara Walters; Jewel with her husband and son; Brooke Burke; Easton Corbin performs
Wed: "Sesame Street" characters; Tamar Braxton, Carla Hall                     
Thurs: Kerry Washington, Jimmy Kimmel, Dr. Pamela Peeke; Richie Sambora performs
Fri: Steven Tyler, Emmy fashion preview; The Killers perform
"Jeff Probst Show"
Mon: American man held hostage in Iraq for over 300 days        
Tue: Jeff Lewis and Zoila
Wed: everyday people with extraordinary stories
Thurs: Mike Rowe, a "Survivor" producer
Fri: Maria Scileppi, A.J. Jacobs, Colin Wright
"Katie"
Mon: E L James, Sheryl Crow
Tue: Amanda Knox's Boyfriend
Wed: Wendy Williams
Thurs: Sharon and Lexie Love
Fri: Dr. Robert Cantu
"Live! With Kelly and Michael"
Mon: Lucy Liu, Penny Marshall; Nelly Furtado performs
Tue: Mitt Romney and his wife Ann, Kelsey Grammer
Wed: Maya Rudolph, Elizabeth Olsen; Neon Trees performs
Thurs: Jake Gyllenhaal, Archie Panjabi; Austin Mahone performs
Fri: Michael Chiklis, America Ferrera; Richie Sambora performs
"Rachael Ray Show"
Mon: Michelle Obama
Tues: Jamie Lee Curtis, Guy Fieri
Wed: Susan Lucci, Wyclef Jean, Joy Behar
Thurs: Fergie
Fri: Jeff Probst, "Cake Boss" Buddy Valastro'
"The Talk"
Mon: Tony Danza, Keri Glassman
Tues: Christina Applegate, Janet Montgomery
Wed: "Survivor" 25th season commemorative show with Michael Skupin, Jonathan Penner, Russell Swan and Lisa Whelchel
Thurs: Michael Urie and David Krumholtz, "Big Brother" winner, Iyanla Vanzant
Fri: Jon Cryer; Phil Keoghan; Aaron McCargo, Jr.
"Today"
Mon: Bill Hader
Tues:  Justin Bieber's mother, Mindy Kaling, Penny Marshall; Pink performs live on the plaza.
Wed: Giuliana Rancic, Maya Rudolph, Andrew McCarthy, Justin Bieber's mother; Josh Turner performs 
Thurs: The Professionals, Justin Bieber's mother,
Fri: Maggie Gyllenhaal, Pink
"The View"
Mon: Prince, Rosario Dawson and Van Jones; Jesse Ventura
Tues: Jon Cryer, Andrew McCarthy
Wed: T.I.; Pink performs
Thurs:  Dr. Mehmet Oz, Cloris Leachman, Apolo Anton Ohno and Karina Smirnoff
Fri: Guy Friday Co-host Tim Hasselbeck; Paul Rudd, Ed Asner, Mario Cantone; Vanilla Ice performs

"The Wendy Williams Show" 
Mon: Jeff Lewis and Jenni Pulos
Tues: Tony Danza
Wed: Wyclef Jean, Perez Hilton; Nelly Furtado performs
Thurs: Anderson Cooper, David Mizejewski
Fri: Apolo Anton Ohno and Karina Smirnoff, Jeremy Kyle, Big Bird