Discovery plots its first scripted mini-series
Ridley Scott-produced project will spotlight gold-mining in Alaska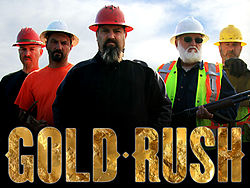 Discovery is hoping a foray into scripted territory will mean ratings gold.
The basic-cable network announced Tuesday its working with executive producers Ridley Scott and David W. Zucker and writer Paul Scheuring ("Prison Break") to launch its first scripted miniseries. Titled "Klondike," the mini-series will follow six strangers in the 1890s whose lives collide as they search for Alaskan gold. Scheuring will also serve as an executive producer.
Bing: More on 'Klondike' | Ridley Scott  |  David W. Zucker | Paul Scheuring
Gold has been quite the commodity for Discovery, which to date has three reality series about hunting for the precious metal. Two, including "Gold Rush," are set in Alaska and the other, Ghana.
Plus: 10 cliched TV character habits  |  2012 holiday specials
"We've been developing scripted for some time, but wanted to find the perfect fit," Eileen O'Neill, group president of Discovery and TLC Networks, said in a statement. "When we read 'Gold Diggers', we knew we finally found it. Discovery created and owns the 'gold' narrative with several of our hit series and we're elated to partner with Scott Free Television and eOne Television on a subject we know so well as our first, scripted project."
Similarly, History's first scripted venture, "Hatfields & McCoys," garnered the network record ratings and several Emmys. "Klondike" is based on the novel, "Gold Diggers: Striking It Rich in the Klondike," by Charlotte Gray. Production will start in March in Alberta, Canada, the Associated Press reports.