Look Who's Talking in Daytime: Oct. 15 to Oct. 19
Lots of prime-time dish and live performances on the docket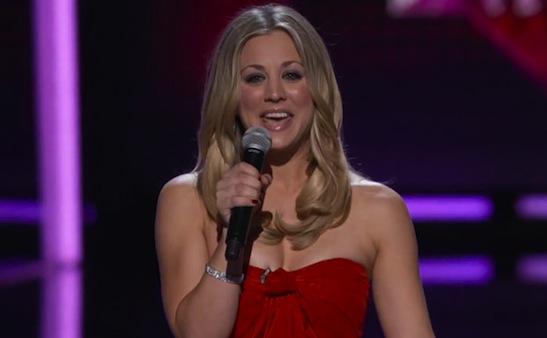 There are plenty of stars coming to daytime the week of Oct. 15, promising lots of prime-time dish and rocking performances. Kaley Cuoco is talking People's Choice Awards and "The Big Bang Theory." Ben Stiller, Hugh Laurie, Judi Dench, Emma Watson, Tyler Perry, D.L. Hughley and Matthew Fox are promoting their new big screen ventures; while primetimers are coming out from "NCIS: Los Angeles," "Nashville," "Grey's Anatomy," "Boardwalk Empire," "Emily Owens, M.D.," "Parenthood," "Scandal," "Glee," "Community," "Suburgatory," "Whitney," "New Girl," "Mike and Molly," "Dancing With The Stars: All-Stars," "The X Factor," "The Voice," "Raising Hope" "The Mindy Project," "The Real Housewives of New York," "Project Runway All Stars," "America's Next Top Model" and "RuPaul's Drag Race All-Stars." Other notables coming to daytime include Michelle Obama, Ann Romney, Israeli Ambassador Michael Oren, Trisha Yearwood, Mary Murphy, Duran Duran's John Taylor, Psychic Medium John Edward, Helen Hunt, Nicole Richie, Nina Conti, Bobby Flay, Christian LeBlanc, Rocco DiSpirito, Mark Cuban, Gina Gershon, Bill O'Reilly, Lauren Conrad, Dita Von Teese and Amy Grant. Plus, don't miss performance from Brandy Norwood, Gavin DeGraw, Jason Aldean, the Wallflowers, Daughtry, The Script, Heart, Jason Crabb, The Monks, and Conor Maynard.
Bing: More on People's Choice Awards |  Kaley Cuoco
In honor of Breast Cancer Awareness month, "The Wendy Williams Show" audience members continue to take turns cutting off their hair to help make wigs for patients going through treatment. Celebs getting into the co-host game this week include Sara Ramirez, Cee Lo Green, Rachel Dratch, D. L. Hughley, Tasha Smith, Susan Barnett, Kristine Johnson, Frank Vascellaro and Amelia Santaniello, Lisa Hughes and Pat Harvey.
Plus: TV Reboots: We can rebuild them | TV superheroes from A to Z
Schedules are subject to change
"Anderson"
Mon: Co-host Tasha Smith; "Shark Tank" Cast and Pat and Gina Neely
Tues: Co-host Sara Ramirez; Kerry Washington, Cynthia Nixon, "Extreme Cheapskates"
Wed: Co-host Rachel Dratch; Julie Andrews
Thurs: Co-host D. L. Hughley; John Edward, paralyzed athlete Eric LeGrand
Fri: Co-host Susan Barnett; Hugh Laurie
"Ellen"
Mon: Joel McHale; Sabrina Bryan and Louis Van Amstel; The Script perform
Tues: Emma Watson, Kym Douglas, D.L. Hughley; The Wallflowers perform
Wed: Matthew Fox; Ellie Goulding performs
Thurs: Nicole Richie, Nina Conti
Fri: (repeat) Britney Spears and Simon Cowell, Psy, Sophia Grace and Rosie; Jesse Schaffer Sr. and Jesse Schaffer Jr. 
"Good Morning America"
Mon: TBA
Tue: TBA
Wed: TBA                               
Thurs: TBA
Fri: TBA
"Jeff Probst Show"
Mon: Mark Cuban
Tue: Gina Gershon, cat behaviorist Jackson Galaxy
Wed: RuPaul, Jennifer Gilbert
Thurs: Lorri Davis and innocent death row inmate Damien Echols
Fri: Regular Americans who've beaten the odds
"Katie"
Mon: Hannah Overton
Tue: Tyra Banks, Lolo Jones, Jennifer Livingston
Wed: Bill O'Reilly
Thurs: Tyler Perry
Fri: Amy Grant
"Live! With Kelly and Michael"
Mon: Cynthia Nixon, Max Greenfield
Tue: Ben Stiller; Gavin DeGraw performs
Wed: Kaley Cuoco; Jason Aldean performs
Thurs: Shaquille O'Neal, Isaac Mizrahi
Fri: Michelle Obama, Brandy performs
"Marie"
Mon: Mary Murphy; Dianne Burnett, Mark Burnett's ex-wife
Tues: Christian LeBlanc, Candace Cameron Bure; Danielle Peck performs
Wed: Florence Henderson, Jonathan Roberts, Jennifer Gilbert
Thurs: Kellie Martin, David Alan Basche, Jason Crabb performs
Fri: Tom Bergeron; Laura McKenzie; Meghan McDermott and Veronica Fritz
"Rachael Ray Show"
Mon: Tyra Banks
Tues: Mindy Kaling, Lidia Bastianich
Wed: John Gidding, Gretta
Thurs: Valerie Bertinelli; Heart performs
Fri: Sunny Anderson
"Steve Harvey"
Mon: 12 year-old chef, snorting solutions
Tues: As seen on TV" pitchmen, advice for the unemployed, David Tutera, Fastest Texter in America
Wed: Tyra Banks, Rocco DiSpirito
Thurs: ultimate wine guide
Fri:
"Ricki Lake"
Mon: dangerous teen trends
Tue: childhood obesity
Wed: Liz Murray, "The Buried Life" cast; Chris Rene talks and performs                  
Thurs: Judge Lynn Toler, Dr. Wendy Mogul, Dr. David Swanson and Lisa Bloom
Fri: Judy "The Couponator" Pezza and moneysaving experts
"The Talk"
Mon: Co-host Kristine Johnson; Mamie Gummer and Justin Hartley, Giada De Laurentiis 
Tues: Co-hosts Frank Vascellaro and Amelia Santaniello; Annie Potts, Brett Hoebell
Wed: Co-host Susan Barnett; Billy Gardell 
Thurs: Co-host Lisa Hughes; Anne Heche
Fri: Co-host Pat Harvey; Peter Krause
"Today"
Mon: Judi Dench, Trisha Yearwood, Uggie, Tiffani Faison; Daughtry performs
Tue: Duran Duran's John Taylor, Martha Stewart, Matthew Morrison, Synchronized Skating; Conor Maynard performs
Wed: Tyler Perry, Ethel Kennedy, Bobby Flay, JJ Ramberg, Christy Turlington; The Monks perform           
Thurs: Cee Lo Green, Whitney Cummings and Chris D'Elia, Bobby Flay, Katie Featherston
Fri: Helen Hunt, Mike Leonard, Bobby Flay, John Hawkes, Frankie Valli
"The View"
Mon: Chris O'Donnell, Trisha Yearwood
Tues: Hayden Panettiere, Israeli Ambassador Michael Oren
Wed: Valerie Bertinelli, Jeremy Sisto
Thurs: Ann Romney
Fri: Co-host Cee Lo Green; Tyler Perry, Emeril Lagasse; eliminated "DWTS: All Stars" couple performs

"The Wendy Williams Show" 
Mon: Joy Behar, Lilliana Vazquez
Tues: Dita Von Teese
Wed: Lauren Conrad, Michael Kenneth Williams
Thurs: Mario Lopez and fiance Courtney Mazza
Fri: Brandy Norwood talks and performs