Sansa Stark hits more lows in 'Thrones' Season 3
Sophie Turner foreshadows another year of gloom for her character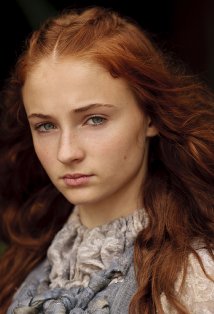 Life for Sansa Stark won't get any easier in Season 3 of HBO's hit fantasy drama, "Game of Thrones."
Actress Sophie Turner, who turns 17 this week, says her character will experience a lot of the same ups and downs fans of George R.R. Martin's books have come to expect.
Bing: More on 'Game of Thrones' | Sophie Turner
"I can tell you that Sansa kind of goes through this little roller coaster on Season 3 emotionally," Turner told the Associated Press. "She kind of gets her hopes up a little at times and they kind of get crushed -- as per (usual) pretty much, nothing much different. It's very emotionally testing for Sansa this season."
Plus: 'Game of Thrones' Season 3 photos
The new season of "Game of Thrones" will draw from Martin's "A Storm of Swords" novel, the third book in his series. And Turner confirmed Sansa will share the screen with Tyrion Lannister (Peter Dinklage) a lot in Season 3, something else diehard fans of the books have been anticipating.
"Peter's such a cool guy," Turner said. "He's amazing to act alongside with and I think I've been really lucky in terms of having worked with Sean Bean closely --  him being my dad, (Ned Stark) -- and now Peter. I'm very lucky getting to work in scenes with these guys because they're big successful actors."
D.B. Weiss, one of the producers behind "Game of Thrones" said fans can also expect a third season where those in power lose it and those without power gain it.
"It's still very much about power and very much about family," Weiss said in a promotional web preview. "I think that this is a season of tremendous reversals of fortune, I think you will be pleasantly surprised and horrified in equal measure."
"Game of Thrones" Season 3 debuts Sunday, March 31, at 9 p.m. ET/PT on HBO.