Steve Levitan Talks 'Modern Family' Contract Drama
Series producer discusses dispute, Emmys, Sofia Vergara and more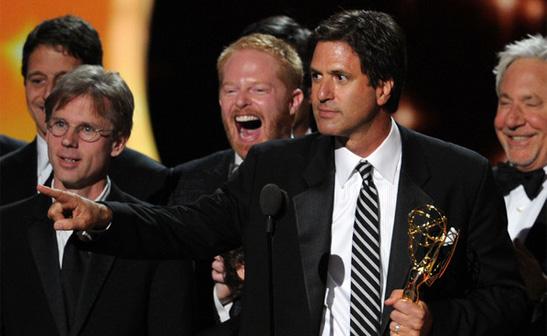 Family business is best kept behind closed doors, but that's not easy in Hollywood, as the crew at "Modern Family" can attest. The hit show recently faced a very public contract dispute, with its Emmy-nominated cast threatening to walk if demands weren't met. The negotiations were still front-page buzz when creator Steve Levitan hit the TCA press tour in Los Angeles Friday, July 27.
Bing: "Modern Family" | Steven Levitan
Then everything changed. Somewhere off-site, a deal was struck. Minutes after the news came in, MSN TV caught up with the executive producer. Here's what Levitan had to say about the dispute, the Emmys and the laughs "Modern Famliy" has in store now that the drama is over.
Plus: Olympic TV efforts | 2012 Emmy nominees
MSN TV: The "Modern Family" contract dispute was big news this week. Where do things now stand? 
Steve Levitan: The deal is done. We're done. I found out here. It was confirmed ten minutes ago.
Wow, so what was your first round of interviews like? Are they useless now?
No, no. I was sitting here saying it was going to be solved any minute.
Why did this take so long?

There was a studio, a network and about six agents and six lawyers. That's why it took so long.
It felt like the "Simpsons" drama all over again. Was this a case of someone using the press to move their side of the argument along?

I personally deeply regret any of this went public. I would love to find out who released all the details, because at the end of the day this could have easily been settled quietly and it made no difference. It was unfortunate. There were a lot of things said that was pure conjecture and it was unnecessary, but the end result was great.
Did the cast get what they wanted?

You'll have to ask them that. I suspect everyone's going to be perfectly fine with the results.
What ultimately brought it all together?
Reason. Sanity. There's an inevitable place where deals come together.
I'm assuming you're not expecting renegotiations with the young actors to be as contentious or visible.

I think that Lily is going to be a monster. I heard she's demanding a swing set.
You seem relieved to finally be done dealing with it.

I never for second doubted that we would get here, but it's a distraction that I'm happy to see end. Since May 15 or so, our writing staff has been busy writing, and that's what we want to be doing. This led to a flood of phone calls and meetings. It was an annoying distraction. But I never for a second doubted it would get resolved. I'm very happy that our cast is going to get well compensated for the work they do and I can't wait to start on Monday morning. I'm really excited.
What do you have on tap this season?

We will deal with Gloria being pregnant. A lot of the season will be about that. Haley goes to college. Mitch and Cam figure out what's the next step for them. A lot of good stuff.
How will Manny take the baby news?

I don't like to get into story details. To me the impact [of reading it] isn't as fun as seeing it, but as you can imagine everyone has a strong reaction and that's what the first episode is about.
I can't imagine the Pritchett siblings are going to be happy!

It's going to be fun. I'm really excited about it.
How did Sofia Vergara respond when she heard she was going to be wearing a baby bump over that hot body of hers?
She took it much better than we feared. She was a great sport. She thought it was funny.
Before I let you go, one more cast issue: What did you think when you saw all those nominations?

I'm extremely happy and feel very fortunate that with so many amazing actors eligible, none of our cast was left out. They all deserve it. There are many different actors in television. For an ensemble, it's the best you can hope for. Nothing better for an ensemble than to have the entire ensemble – or adult ensemble – nominated. We are very lucky.
"Modern Family" premieres Wednesday, Sept. 26,  at 9 p.m. ET/PT on ABC.