More Charlie Sheen Drama: The Actor Breaks TV Talk Show Rules
After granting ABC an "exclusive," Sheen dashes talk TV etiquette by doing an interview with NBC, too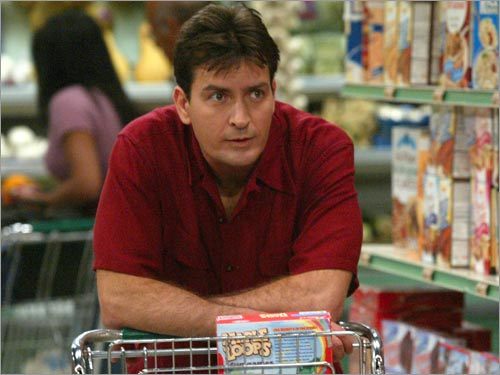 It you think Charlie Sheen's been playing the cad given his recent behavior on and off the set, well here's another arena in which the "Two And A Half Men" star is breaking all the rules. 
Sheen, who's ranted all over radio this weekend about his problems with the way his TV exec producer Chuck Lorre and CBS have been handling his repeated problems on and off the set -- by halting production of the show on Thursday -- had granted ABC what they thought was an exclusive interview (with Andrea Canning), set to air today and tomorrow. They promoed the interview, set to air on "Good Morning America," all weekend long, even throughout the Oscar broadcast, and promised an hour-long look at the chat Tuesday evening. 
But this a.m., you might have noticed, the 'Today' show aired it's own "exclusive" Sheen interview, this one with NBC's Jeff Rossen, taped on Sunday in Los Angeles. NBC executives called this Sheen chat "his first interview since his contentious public comments against CBS" last week. And "Today" producer Tim Bell tweeted last night that the interview promised "incredible stuff," including Sheen's demand for a personal apology from Lorre. Bell also told
the Los Angeles Times
that while the big get "was simply about hustle and hard work by our reporter Jeff Rossen," scooping it's rival made it all the better:"Does spoiling the ABC 'exclusive' make it a little sweeter? You bet it does." 
Here's part of the "Today" show chat:
ABC, meanwhile, has issued a statement noting that their chat was a "first" foremost. "Charlie Sheen assured us that we would be the only sit-down television interview this weekend, but he changed his mind...He gave us the first interview, which was extensive and included tremendous access to his home, family and personal life." 

A quick look at the ABC chat:
Sheen's bad behavior has been a tabloid staple for several years already, and that it's taken this long for it to begin impacting his work life is almost disturbing. Does the public really continue to support a character who's been known for being abusive towards his wives, dalliances with porn stars and prostitutes, and extended drug and alcohol abuse. Oh yeah, I guess we do. Because who doesn't enjoy watching someone self-destruct?

"I'm not hiding from anybody or anything," he
told TMZ.com
in a live broadcast earlier today in an extended, in-cohesive chat that included the following choice soundbites: "When you threaten the safety of my family and the whole foundation, then we're at war.... Now every plan I have is the best plan in the world....Whatever part I had in this I apologize for. Whatever I can fix, I certainly will."
And now come reports that Charlie Sheen's publicist, respected 
PR vet Stan Rosenfield
, just quit, moments after the TMZ chat ended. Who can blame him?