'The Soup' saves Hoff's Xmas
Poorly received new Lifetime movie revived as punch line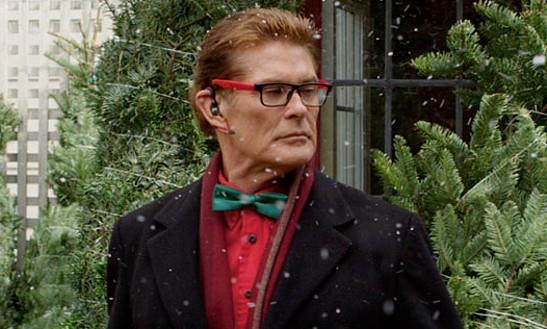 David Hasselhoff couldn't save Christmas until "The Soup" saved him.


A new Lifetime movie called "The Christmas Consultant" stars the Hoff as an elf-like man who hires himself out to a family that didn't allow enough time for holiday planning. TV Guide calls it "truly Hoff-ful."

After the critical drubbing and low ratings for its Nov. 10 premiere, Lifetime quietly bumped plans to rerun it. But then E!'s "The Soup" discovered its value as comedy fodder.
Plus: 10 cliched TV character habits | 2012 holiday guide | 2012's most memorable TV moments
"Sometimes, you can find help lying on the floor eating a cheeseburger," host Joel McHale hassled the Hoff while introducing a montage of the film's worst moments, three of which seem to suggest that Hoff's character is a child molester.  (See the clip here.)


"We just devoted more time to that movie than Lifetime did," McHale said.


The thing about viewers is that networks don't care how they get them. Thus, a camp classic was born. Thanks to the attention, the network scheduled at least three more airings this year.


"The Christmas Consultant" airs Wednesday, Dec. 19 at 6 p.m. ET/PT; Thursday, Dec. 20, at 8 p.m. ET/PT; and Tuesday, Dec. 25, at 6 p.m. ET/PT on Lifetime.

This movie was light and heartwarming.  Mr. Hasselhoff's character helped the family realize what
was important about this holiday; being together.  I needed a little cheering up.  I have lost two loved ones this year (my mother and my sister).  No one is saying Mr. Hasselhoff is a great actor but he played the part well.  By the way, there was nothing in the movie about child molesting.  Has Mr. McHale actually seen this movie? 
Are you sure you want to delete this comment?