'Pretty Little Liars' Talking Points: Breaking the Code
10 'Pretty Little Liars' plot points you need to know to get by at the water cooler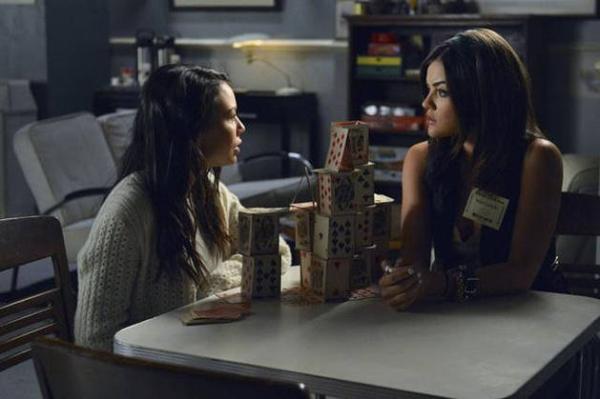 Last week on "Pretty Little Liars," the fearful foursome discovered some evidence the cops had long been looking for – the anklet Allison was wearing the night she died. The anklet accidentally proved Garret Reynolds innocent -- and this week, the cops were questioning a whole new host of a suspects, including one of the girls. 
Bing: More on "Pretty Little Liars"
On that anklet? Two people's blood. The dead girl Allison's, of course. The other was O-negative, and that just happened to be Hanna's blood type. So Detective Wilden got a court order to call her in for testing. Eeeps. Spencer asked her mom to try to block the court order, but it would take time. Turns out Mr. DeLaurentis – Jason and Alli's dad – was back in town, and the test was his idea. So Hanna decided to talk to him. "I didn't touch her grave – I would never." But he wasn't buying it. "A friend would never do what you did. At the time it seemed like a childish prank. But it seems like you've gotten crueler with age." What?
At the café, Aria, Emily and Spencer saw a blonde chick ordering a drink – and from behind, she looked – and sounded – eerily like Allison. Turns out she knew her, too. CeCe, an old pal, who knew all about the girls. She spent summers with Allison at the beach and even dated Jason. Right before Alli died, CeCe said, they shared a couple of super-intense weeks together. "She was like a broken doll." When the chick went off to work, Aria pointed out that CeCe was freakishly like Alli. "Or was Alli freakishly like her?" Spencer wondered. "One hip out, the head tilt?" And Emily added: "Looking straight through you, like she knew all your secrets."
Later, when Emily was working, Nate swung by the café and told her he had a date with "her friend Jenna." Emily told him they weren't friends, but Nate said Jenna had nice things to say about Em. And about Maya. Apparently, she'd driven Emily's now-dead ex-girlfriend to school a few times. Later, Emily and Nate went to CeCe's boutique to pick out a gift for Jenna. CeCe could tell Emily wasn't feeling it, but she thought it was a jealousy thing. "Try again." Then she figured out that Emily was the one with the crush on Alli. Nate showed Emily a bunch of stuff, but she nixed it all. "Would you quit busting my chops," he said. "I wouldn't even be buying Jenna this gift if the hottest girl in Rosewood was available – or interested in guys." Aw shucks! Back at the café, Emily told Nate about Jenna – that she dated Garrett. But he still didn't get that Jenna was bad news.
At school, Aria's mom Ella told her she'd be going on a date – with a guy she met online. Her date was at the café. Ella got there early and flirted with the barista. Her date turned out to be Ted, the guy from the church last week, the one who'd been interested in Hanna's mom. The date was lame -- because Ted ate ice cream the way Ella's ex did -- so afterwards, she headed back to the café, where the barista – the owner, Zach – flirted some more, and gave her free pastries.
Toby caught up with Spencer as she was on the computer again, tracking Allison's murder clues. She snapped the laptop shut, and Toby asked her if she was sure about Garrett being the killer. "There was a time you thought I murdered Allison, remember?" he said. Oh yeah! "Evidence can get distorted, taken out of context. It's made me a lot slower to pass judgment." Then Spencer ran into Jason. He said he was done looking for answers. Spencer told him she ran into CeCe Drake. He told her CeCe was all drama. Later, on the road, Spencer spied a hit-and-run. It was Jason, and he was drunk. She left her car on the road, door wide open, right near the car he'd crashed into. She ran home, and Toby wondered what she was hiding. He wasn't the only one – Detective Wilden showed up, asking about the car. Toby said they'd been together the whole night. "That lie is a felony," Toby said. "I thought I was finally done with the police."
After school, when Hanna and Aria got home, they found a Ouija board on the table. Hanna moved the game piece, and it flipped, pricking her finger. Underneath, a note from A: "See how easy it is for me to get your blood?" Apparently, the game piece had come back from the grave – Allison's grave. "Mona and I played the game before they found Alli's body," she said. Flashback: a stormy night. They ask the board what happened to Allison. It spelled the word Alive, and Hanna thought she saw the missing girl spying on them through the window. Aria decided she had to go see Mona to find out what was going on.  
After work, Emily ran into CeCe AGAIN. That girl is suddenly everywhere. She asked if Em had warned Nate about Jenna, but Emily told her it had just made Nate like the girl more. So under the guise of giving Emily her number, she dialed Jenna – and told her to back off her boyfriend. "If I ever see you anywhere near Nate, I will scratch your eyes out." When Emily freaked, she said, "It's not like we shot a unicorn – we're helping your friend out. Problem solved." Nuh uh – looks like their problem is just beginning. 
At the loony bin, Aria was pretty freaked out. Mona recognized her and asked if she wanted to play a game. She was building a house of cards. But she wanted to know why Aria was there. So Aria told her about the Ouija game piece – and that it wasn't the only thing unburied from Allison's grave. "It isn't me," was all Mona would say. And that she was sorry. Outside, Hanna was waiting – and wanted to sneak in. But Aria insisted they go together. "Friends don't let friends sneak into insane asylums alone." Back inside, Hanna asked Mona who else knew. Knew what, Aria asked. The night she thought she saw Allison, she called Alli's mom and said she was alive. Three days later, they found the body. "He still hates me. Another stupid mistake A can use to ruin my life." Another big mistake? In talking, the girls had let Mona loose.
The girls looked for Mona in the children's ward of the loony bin, which was super-creepy, especially with the disembodied humming. Mona sat in a chair, brushing dolls hair, chanting weird little rhymes. "Miss Aria, you're a killer, not Ezra's wife. Maya's away, sleeping sweet, until Garrett's all rosy, count on me. No one to save Alli from evil." That's when the wardens came to get her. "I missed my dolls," she told them as they took her away, still chanting.
Later that night, Aria called her mom, who told her she was on another date. Two in one night? "She's a slut," Aria told Hanna, who was right beside her. They'd brought one of Mona's creepy dolls home, and it was haunting Hanna, along with the chants. That's when Hanna realized that Mona had been speaking in an old code they had, silly phrases where the first letter of each word added up to a name. The message: "Not safe." And the address to a website – one that pulled up a photo of Maya, and asked for a password.

In the end, back in the children's ward, the dolls slept in their creepy cribs. And a black-cloaked figure choked one until the head came loose. Inside, a tape recorder – that had recorded everything the girls had discussed.
"Pretty Little Liars" airs Tuesdays at 8 p.m. ET/PT on ABC Family.