Ryan Reynolds Voices God's Son for 'Family Guy'
Green Lantern himself returns to the FOX comedy as Jesus' rough draft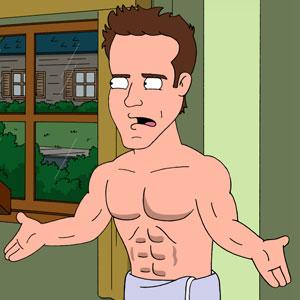 Apparently, as Hollywood insiders busily debate 
this year's Emmy nominations
, actors themselves are haggling for airtime on the upcoming 11th season of "Family Guy." 
And now, according to
Entertainment Weekly
, Ryan Reynolds is prepping to get animated for a second guest appearance on the series. Reynolds, who dropped in last year to play himself (see left), is stepping even further outside his own skin by portraying the wayward first son God conceived before Jesus. Or, as "Family Guy" Executive Producer Mark Hentemann explains to EW, "He's God's previous attempt at an immaculate conception, his first son that didn't quite work out." 
Ya gotta give Reynolds credit for putting his faith, so to speak, in
Seth MacFarlane
. The provocateur and
"Ted"
director (which Reynolds also appeared in) is no doubt frothing at his next opportunity to stir controversy, and his A-list pal will be something of a lame duck in the crosshairs. Although ironically, judging by the above cartoon rendering, Reynolds doesn't exactly have an extra body hair to spare.
"Family Guy" airs Sundays at 9 p.m. ET/PT on FOX. (This Sunday's episode airs at 7:30 p.m. ET/PT.)