Roseanne Barred From Really Roasting Tom?
Report: Arnold would not appear at Comedy Central Roast without 'assurances'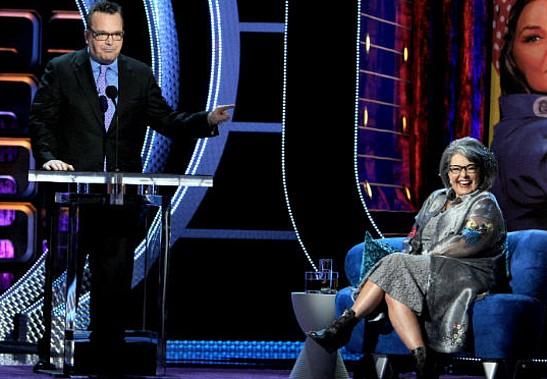 Roseanne Barr has since admitted to reporters faking the surprise she showed when an unannounced Tom Arnold took the stage at "The Comedy Central Roast of Roseanne." According to the New York Post, however, the secret ran much deeper: Arnold would not even agree to appear without a guarantee, from his ex-wife, that she not bad-mouth him.


Bing: More about Roseanne Barr | Tom Arnold | 'Roast of Roseanne'
"Tom wanted assurances," an unnamed source said. He even demanded that Barr say "something nice" about him. (His demands were apparently made through a go-between at Comedy Central.)
Arnold and Barr have not spoken to each other since their 1994 divorce, according to the story. However, they've spoken about each other plenty since. ("Nice" isn't the word that comes to mind.)
Comedy Central agreed to Arnold's terms, according to the Post, then had Barr call him, "to assure him it wasn't a trap."
This would explain why Arnold didn't stick around after his set -- which he capped by sweetly thanking Barr for being his personal Johnny Carson -- to watch Barr and comic Gilbert Gottfried eviscerate the other roasters from the podium. (Organizers could always have brought up an extra chair.)
Plus: The fate of your favorite shows | 2012 Primetime Emmy nominees
As far as we can figure it, the something nice Barr said was: "If I can bury my roiling, boiling, ceaseless hatred for the likes of Tom Arnold, maybe there's a chance we can have world peace."


Nevertheless, Barr did score one of the night's biggest laughs with an Arnold joke that went: "Jesus Christ, how many (expletive) jobs do I have to get for that guy?"
Are you sure you want to delete this comment?