Darnell Williams Brings Fight to 'The Young and the Restless'
'All My Children' reunions won't mean same story in a new town
"All My Children" alum Darnell Williams is getting into the drama on "The Young and the Restless," but don't hold your breath for a Jesse and Angie Hubbard reunion. The super couple may be sharing turf again, but from the moment Sarge showed up on canvas Monday, Feb. 20 (see clip above), it was clear this fierce physical therapist is nothing like Jesse. As anyone who's been watching knows, Debbi Morgan's Harmony is also no Angie. Williams opened up to MSN TV about bringing the fight to Genoa City, getting into it with Peter Bergman (Jack) and the chances of forming a new super couple on new ground with Morgan. 
Bing: Watch episodes and clips of "The Young and the Restless"

MSN TV: How did you feel when you got the call to come to Genoa City, months after "All My Children" ended and after so many castmates had already joined the show?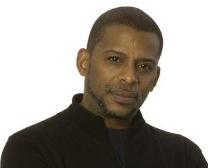 Darnell Williams: I was blown out of the water. It was the last call I expected. I just didn't think it was going to happen, a call from "The Young and the Restless." Not that I was waiting with bated breath for a call, but because Debbi was here, I figured that's that, in terms of ever coming over to this show.
You and Debbi played one of daytime's iconic super couples. Would you like to work that energy with her again?

I would love to create something new. It's always a pleasure to work with Debbi and I think we're on the same page, as far as this is concerned. It would be nice to flesh out some new characters and new story points.
So what have you heard on that, so far?
When I was in for the meeting, they said they weren't bringing me in for Debbi's character. I was like, "That's great, because both of us would like to explore different avenues." They said, "Well, it's not the way we work, but somewhere down the line it may happen." I'm hoping they give us a shot at being individuals, before they decide to -- if they decide to put us back together again.
When you left "All My Children" in the '80s, they tried pairing Debbi with Peter Bergman (ex-Cliff) onscreen, but the fans would not respond to anyone other than Jesse for Angie. They barely accepted Jacob, and you played him. Do you think fans are ready to accept either of you in an onscreen romance with someone else? 
Yes, as long as it's written well. Why not? I think Debbi and myself are capable actors and hopefully, whomever they pair us with, it's going to spark interest, beyond the Angie and Jesse phenomenon.

Well, Debbi certainly came into town with a new vibe. What kind of character are you bringing to Genoa City?
Sarge is an asshole, to put it bluntly. I'm not sure what his past is, but he's like a retired marine, like a drill sergeant kind of guy. That's as close as I can give, in terms of a description of the character, or what I'm using to springboard off of.
While you're not working with Debbi, you are working with Peter Bergman again. What is that like?
I'm working with Jack to try to rehabilitate him. It's great. I can't remember how much we [worked together], in terms of scenes, back in the day. It was so long ago, but Peter Bergman – you just don't get classier than that. I'm so happy to be working with him again. It's like comfort food.
How would you describe Sarge's relationship with Jack?

The relationship is a little tense right now. Jack sort of saw the asshole potential, so he confronts him. They have this dialogue and Jack realizes that this guy gets results, regardless of how much of an idiot he is, so he asks him to take on his physical training.
Is Sarge in for a long road with Jack?
That's all to be seen. I don't know how long he's supposed to be in this wheelchair or debilitated condition.

Have you gotten to see Debbi?


No. I speak to Debbi quite regularly, but I haven't seen her at work yet. This studio is such a sprawling space -- well, to those of us who've just gotten here. I'm still walking around, bumping into walls and not knowing where I'm going. "Oh my god, is this the second or the 50th floor?"
Who's been showing you around?


I run into a lot of people who are just as confused, so it makes it easy.
Are you bumping into any other "AMC" alums?
When I first was lost in the hall down there, off "The Price is Right," it was Missy walking up with her sexy little walk. Melissa Claire Egan (Chelsea) walks like a dancer. I love that. Who else have I run into? I'm blanking, but there's been a handful. Jacob [Young] is across the hall at "The Bold and the Beautiful." I've not been over there yet, [but] just came off the road with him, doing some Pine Valley appearances.

So are you having fun over in Genoa City?

The fun hasn't started yet. I'm still working around the knots in my stomach, because it's so quick. I thought "All My Children" had gone to the speed of light. Over here, I hate to use the word "rehearse," because it's almost a bad word. They barely show us where we need to hit our marks before they turn the cameras on us and we're going. Once I get used to that rhythm, it will be a little smoother going for me.

Once you get settled, what is something you're hoping to get to do in your new stomping grounds?
I'm open. I try not to have any expectations. I learned as a younger actor in daytime not to come with your plate to full, so that you can have room for someone else to put their stuff on it.
"The Young and the Restless" airs weekdays on CBS.

Love Darnell!  I am a longtime AMC fan, and loved Jesse.  I have never watched Y&R, however the character "Sarge" sounds interesting.  I will have to give it a look.  I had the pleasure of attending A Tribute to Pine Valley in Chicago and was very impressed with the actors involved.  I find Darnell's honesty in this article vey cool.
Are you sure you want to delete this comment?