CBS Daytime Salutes Breast Cancer Awareness Month
The game shows, 'The Talk' and the soap operas go pink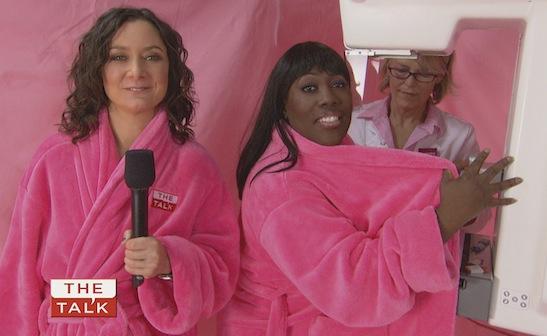 "The Young and the Restless," "The Bold and the Beautiful," "The Talk," "The Price Is Right" and "Lets Make a Deal" team up to support Breast Cancer Awareness month the week of Oct. 1. CBS Daytime banks a $10,000 donation for Dr. Susan Love Research Foundation, celebrates survivors and tackles soap opera matriarch Stephanie Forrester's mammogram results.
Bing: More about "The Talk" | Breast Cancer Awareness Month
"I can't think of anything more important than reminding women to get a mammogram or do a self-examination during Breast Cancer Awareness Month," said Angelica McDaniel, Senior VP of Daytime, CBS Entertainment. "I'm proud that our daytime shows have stepped forward to support this cause."
On Monday, "The Price is Right" partners with Ford Warriors in Pink to kick off the week with a special Breast Cancer Awareness episode. Host Drew Carey and announcer George Gray will wear Warriors in Pink shirts and ties and the audience will be packed with breast cancer survivors sporting Warriors in Pink scarves. One survivor will get in on a game of Plinko and win a $10,000 donation for Dr. Susan Love Research Foundation. Carey will also appear in a public service announcement for Warriors in Pink, airing during the episode.  
Genoa City locals will sport Breast Cancer Awareness jewelry on "The Young and the Restless." Katherine Chancellor (Jeanne Cooper) will wear an awareness pin Monday and Tuesday, while Lily (Christel Khalil) will wear an Awareness bracelet Tuesday.
Wednesday is Wayne Brady's day to go pink. The "Let's Make a Deal" host will wear a pink shirt and handkerchief while announcing a pink-themed deal that features electronics with pink covers for both an iPad and iPhone. 
Plus: TV's creepy smilers | TV's top secrets revealed

On Friday on "The Talk," James Denton will share his personal story and discuss how members of his family have battled with breast cancer. The audiences will be full of breast cancer survivors and survivors from Ford's Warriors in Pink Models of Courage team will share their stories. Last year, "The Talk" gave mammograms to Sara Gilbert, Sheryl Underwood and audience members during its first Pink Party (pictured above). This year, the show will give away a 2013 "Warriorized" Ford Escape during Friday's taping.
The issue will hit home for "The Bold and the Beautiful" powerhouse Stephanie Forrester (Susan Flannery) Friday when she discusses the results of her recent mammogram.