'New Girl' Season 2 Spoilers
FOX comedy returns with new guest stars and outrageous plots
Fans of FOX's "New Girl" are going to hurt themselves laughing in Season 2.
Of course, those injuries won't be as bad as Schmidt's (Emmy-nominated scene-stealer Max Greenfield), um, broken penis. But trust us when we say your stomach muscles will get a work out.
Bing: More on FOX's 'New Girl' | Zooey Deschanel  | Max Greenfield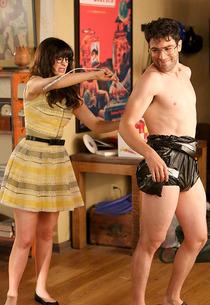 When the second season kicks off Sept. 25, Schmidt is still recovering from his injuries and sports a trash-bag diaper in the shower to protect his man parts. Later in the episode, Jess (Zooey Deschanel) helps Schmidt scratch an inconvenient itch underneath the aforementioned diaper. Eewww!
Guest star Parker Posey ("The House of Yes") will play a "shot girl" Schmidt hires to work at the party celebrating his penis-cast removal.
Plus: TV shows for snobs | Movie stars who do TV
Other cameos of note this season include Niecy Nash ("Reno 911"), David Walton ("Perfect Couples" and "Bent") and Josh Gad ("Love and Other Drugs"). Nash will guest as a hooker who steals Jess' purse while Walton and Gad play two of Jess' love interests.
Plot points of note include Jess getting laid off from her teaching job, a Schmidt and CeCe (Hannah Simone) reunion, and Schmidt trying desperately to hang out with and befriend rapper Kanye West.
"It's a serious man crush," Greenfield, 32, said at FOX's Eco-Casino party Monday night. "It's going to be awesome." 
"New Girl" returns Tuesday, Sept. 25, at 8 and 9 p.m. ET/PT on FOX.