'Walking Dead' star Norman Reedus talks firing blanks
Anderson Cooper goes fanboy and zombie himself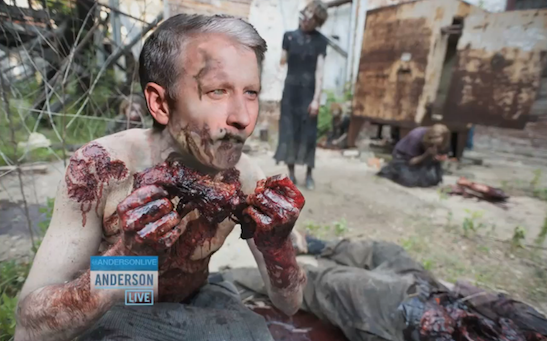 Anderson Cooper went totally fanboy during his visit with "Walking Dead" star Norman Reedus on "Anderson Live," airing Friday, Nov. 9. In addition to going zombie himself, Cooper played with character Daryl Dixon's crossbow and then took aim at Reedus -- with a safer toy bow, of course. During the sit down, Reedus revealed the complicated process that passes for shooting his bow on "Walking Dead" and more. 
Bing: More on Anderson Cooper | "Walking Dead" | Also: Shows we wish could return
"It's hard not to look cool holding a crossbow," Reedus quipped when he and Cooper were playing with the heavy weapon his character favors. "It kind of helps you have big guns when you hold it.
As tough as it looks, Reedus revealed he never actually shoots an arrow on "Walking Dead."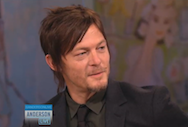 "You'll notice there's no tension [in the bow], because you have to dry fire," he told Cooper. "You have to raise it in camera, then you have to put an arrow in it, then you have to drop it out of camera, you have to throw the arrow on the ground, lift it back up, dry fire it, pick up the arrow, stick it in something, let go of it, grab a knife, stick something, put it back in. It's kind of a math problem."
Cooper couldn't wait to get his hand on it and blamed his excitement when he accidental knocked over his cup. It seems the newsman was a weapons collector as a kid. He even recounted the time his mother bought him a "high powered, serious crossbow," and then had the sense to not let him have it. 
Plus: Seth MacFarlane's hyperactive life | Fall mid-season report card
Then he showed Reedus how the "Anderson Live" team had zombie-fied him. "I love that the baby blues are still sparkling and the hair is still perfect," Cooper giggled. "That's creepy. That's going to be my screensaver from now on!"
Cooper also couldn't pass up a chance to shoot at Reedus, but don't worry: He switched to a toy crossbow. Reedus helped him get into character by loaning him Daryl's signature vest. "On me, it's a little Village People," Cooper admitted.  
When Reedus came at him like a zombie, Cooper shot him in the crotch. He reminded Cooper it had to be in the head and two shots later, Cooper took out his first zombie.
Tune in Friday, Nov. 9, to hear about how "Walking Dead" has given Reedus cool points with his son, not to mention how a pretty woman and a night of partying turned Reedus into an actor.
Friday's episode also brought Cooper's dream co-host, Iyanla Vanzant, to the show. The star of "Iyanla, Fix My Life" revealed what she meant when she told Oprah "she couldn't receive her gift" and talked about President Obama tearing up during his emotional speech.
"Anderson Live" airs weekdays in syndication.
Are you sure you want to delete this comment?