'True Blood' Talking Points: Russell's Rage
10 major plot points you need to know to get by at the water cooler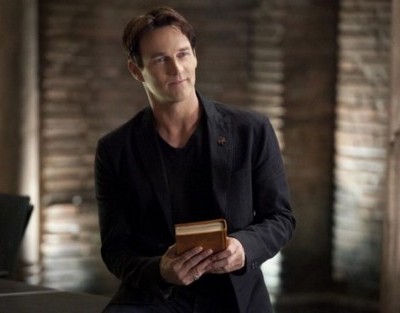 Last week on "True Blood," the Authority proceeded full force with their plan to take down the mainstreamers by bombing the five Tru Blood factories across the globe, forcing hungry vampires worldwide to begin feasting on humans.

Bing: More on "True Blood"
Of course, our heroine, Sookie Stackhouse, isn't quite human – she's half-fairy, which makes her particularly tasty, apparently. That's why, this week, the Bon Temps coroner, Mike, recently turned vamp, showed up at her house, hungry. She staked him with a chopstick from her Chinese take-out, annoyed at the inconvenience. Sheriff Andy Bellefleur came to help clean up the mess. 
Later, at Merlotte's, Lafayette cooked up some steaks for Andy and Holly, who were having a date night at Merlotte's. Things were quiet now, Lafayette told them, so they best enjoy it while it lasted. Lord know he wouldn't be serving up steak once things got resolved and they were busy. Or dead.
Meanwhile, at the Authority headquarters, Molly was being put to the True Death by the very device she invented, the iStake. Rev. Newlin, a virgin when it came to True Death, was very pleased with the process. Then he and Russell went out for Greek. Bill informed Eric that he and Nora could only keep the traitor alive for so long, then forced him to take another dropper of Lilith's blood. But instead of seeing Lilith, they saw Goderich. "Lilith is a godless God, she will lead you to destruction," he told them. But then Lilith appeared, and tore him to shreds. Later, Bill told the others that Eric was relenting. "I humbly beg your forgiveness," he said, telling them that Goderich was a false God, and that they were all the children of Lilith. He even went as far as to say he forgave Russell for his sins against his family. "We are made again," he said. "We are brothers in the eyes of Lilith." Uh, overkill, Eric. Not buying it.
At Fangtasia, the new sheriff Elijah was irritated that Pam and Tara were only pulling in $600 a night. When she said they'd keep kicking it old school, he announced, "Yeah, you and Blockbuster Video." Ouch. Then he told them about the new mandate: 30 baby vamps by the end of the month, or he'd take their assets, including progeny. Tara was tempted. "I always wanted kids," she said. But Pam said that Elijah could take the bar – she and Tara were sticking together. But apparently, Pam still didn't know Tara very well. Later, Tara called Elijah, saying she'd accidently killed a human and needed her help because Pam had forbid her from making baby vamps. Elijah leaned over to find the victim had a heartbeat, but as he turned around, Tara staked him and chopped off his head. To Pam, she said, "We're not running. Nobody f---- with us in our house." 
Jessica showed at Merlotte's – where a Sup-killer pointed a gun at her. But Sam and Lafayette weren't having that, and instead offered to serve the guy up as tonight's special. Jessica declined, saying the guy seemed a bit stringy, so he ran out. Jason showed up, saying he was supposed to meet someone – and so was Jessica. That's when Hoyt appeared. He told them he was off to Alaska. He asked Jessica to glamour him. "I want you gone, out of my head," he said. "And I want him gone, too. Please, take this hurt away from me." So she said he was her first love, and they'd miss him, but he wouldn't them. He'd go to Alaska, start a brand new life. He'd forget about Jason, and forget about her.  "You're going to make some girl the happiest girl in the world – and she's going to be your first love."
Later, Sookie was packing to crash at Jason's, so she and Jason went over her findings from under the bed. So he rifled through the stuff, too, but then Sookie remembered: Gran didn't say in the box, she just said under the bed. Naturally, there was a loose floorboard, a small metal box, and a scroll written in a rune-ish language. They took it to a local professor, who said it was an elaborate hoax. The paper was 200 years old. "This is not in any language. At least not in any human one." Tun tun tun! Driving back, Jason pulled Hoyt over as he was driving out of town. "Stackhouse," Hoyt said with a grin. "Any relation to Sookie?" It broke Jason's heart, but he had to let him go.
Sam called the Authority, pretending to be a reporter from Dog Monthly, hoping they'd tell him about Steve Newlin's new puppy – Emma. Luna was furious, trying to get any lead, but no luck. They found out Steve would be making a TV appearance in New Orleans that night – and got on the next flight. As Steve kiboshed TV talk of a conspiracy by vampires to overthrow humanity, two little white mice crawled around his dressing room. Sam and Luna discovered that Steve hadn't even brought wolf pup Emma with him. Of course, when Steve got back to headquarters, little Emma was in human form – which really annoyed him. "Do you want Nigel to eat you?" he said. "Bad puppy!" While he was scolding her, the two little white mice slipped out of his bag. Hey, cheaper than a return flight for sure.
Bill sent the Authority's minions to bring Jessica to headquarters. When she got there, Bill gave her a hug and told her she was safe. As he showed her the sanctum, he was power-tripping a bit, telling Jessica they were chosen by god. "9 million species on earth and here we are the pinnacle of the food chain," he said. "Were we not put here by nature or fate or by some great deity." To which Jess said he sounded a lot like the Bible study her parents forced on her. He said that they would lead their kind into the coming age. Which gave her pause.
In the Authority chambers, the other were talking about education reform for vampires, Russell brought up drinking the fae so that they could daywalk again. Eric reminded him that it lasted very temporarily, but Russell said they should get the blood and study it, make a synthesized version like the Japanese had with Tru Blood. Salome wasn't interested. "We are creatures of the night," she said. "Fairies are an abomination." Russell was getting agitated, and everyone else jumped to defend Salome. "I am 3000 years old," Russell reminded them. "I am stronger than all of you combined. Did you think I would be your lapdog?" He told them he would no longer be kept in the dark – literally – by their god, or anyone else's. Then he left. Uh, oops?
Flummoxed still, Jason and Sookie went to the fairy burlesque club and showed the documents to Claude. He said the characters were from their language, but he groupings weren't words. "It's like reading alphabet soup," his sister Claudija explained. Then the pair told Jason and Sookie that the document was in the old language -- and being only 130, they couldn't read it. So they called Marella, a 500-year-old pregnant fairy, who could. "Blood on vellum," she said. That meant it was a contract. Written in fairy blood. It was from 1702, and noted that a John William Stackhouse swore that his next fairy-bearing heir would be granted to a Warlowe. Next fairy-bearing kin, Jason wondered. Yup: Sookie.

"True Blood" airs Sunday nights at 9 p.m. ET/PT on HBO.