'Office' star gets NBC pilot
Craig Robinson to play music teacher in new sitcom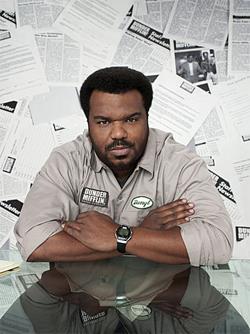 While it seems that Craig Robinson's "Office" character, Darryl, is headed to Philly and Jim's sports-marketing firm, Robinson himself has eyes set on being a leading man. 
Deadline
reports that the veteran supporting player has been developing his own sitcom with "Office" producer Greg Daniels and that NBC has officially ordered a pilot.
The as-yet-untitled half-hour will star Robinson as a surly middle school music teacher adjusting to academic life. This is, of course, something of a natural segue for Robinson, whose Darryl on "The Office" is known for tickling the electric ivories at company parties and occasional local weddings.
It's certainly a deserved shot for Robinson, who's spent nearly as much time working his way up the NBC ladder as Darryl did Dunder Mifflin's hierarchy. Whether his understated comedic timing can anchor an entire series remains to be seen. Mwahaha. 
"The Office" airs Thursdays at 9 p.m. ET/PT on NBC.
This hardly seems newsworthy.  Craig Robinson's talent is evident, but NBC (Nothing But Crap) orders scores of pilots every year, and only a handful ever see space on the network's schedule.  I wish Robinson well in this entertainment endeavor, but it's a longshot.  He'll land somewhere that his talents are welcome, though.   And even if this pilot doesn't soar, "The Office" producer Greg Daniels will surely conjur up another sitcom that'll be as popular.

Are you sure you want to delete this comment?