'Neil's Puppet Dreams' Season 1 finale launched
Neil Patrick Harris talks with MSN TV about Muppets, 'HIMYM' and magic
By 
MSN TV
 Jan 23, 2013 12:22PM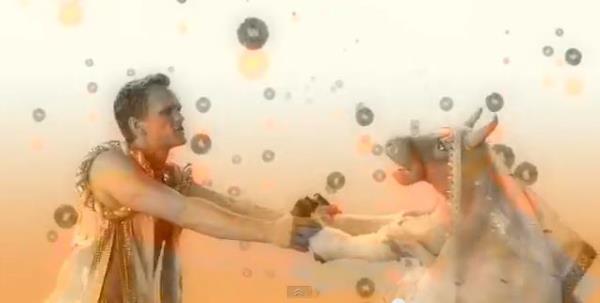 By Kent Laird
Lead Editor, MSN TV & Movies

Undoubtedly one of the busiest people working in Hollywood, Neil Patrick Harris -- star of "How I Met Your Mother" on CBS, host of multiple award shows, promoter and enthusiast of magic, and father to two -- recently launched the last episode in his online series, "Neil's Puppet Dreams," on the Nerdist Channel. The final episode heads to the east where his latest dream drops him into the middle of a romance in the heart of Bollywood.  MSN TV caught up with the busy actor to talk about the series and also captured some thoughts on the latest season of "HIMYM" as well as some other ongoing projects.

MSN TV: It's a pleasure to talk to you. I don't know how you get all this stuff done.

Neil Patrick Harris: I don't either, to be honest, but somehow we keep spitting this stuff out.

Bing: More on Neil Patrick Harris | More on 'Neil's Puppet Dreams'
So how do you find the time for all of it? These episodes of "Neil's Puppet Dreams" are really well done, and you obviously have other things going on.
The nice thing about web content is that you don't have proper deadlines. So, we have been tossing this idea for "Neil's Puppet Dreams" around for months and months, and we filmed them in the fall. So, we've just been releasing them every Tuesday the past few weeks. We filmed all seven episodes in two and a half days.

It was kind of nice to do it all in one confined shot. I found it all very experimental in the best old-school, Henson [Production] way. Because we had free rein to come up with our own creative content, we were just very interested in trying different ways of working with puppets. From green screens, one whole episode was shot without editing, one was on location, one was filmed like a documentary and one was a music video. We were just seeing how it all worked. It was all round one for hopefully a bigger picture.

The episodes are really funny.

Thanks. Have you seen the Bollywood episode yet?

Yes, I just got it. It's really funny. The end, when you come out of the dream, David's reaction to your comment is priceless.

[Laughing] Yeah, we spent the most time on that one. That's our "pièce de résistance."

Was it hard to get the choreography right for the Bollywood style dancing?

Well, Spencer Liff choreographed it, and he was just nominated for an Emmy for "So You Think You Can Dance," and he is an unbelievable talent and a friend as well. Sending him an email asking him if he would like to choreograph a Bollywood number where I'm in love with a puppet cow, I was cringing at his response. But he said, "Yes absolutely, this is fantastic!" So yeah, he had to spend some time with me learning. The dancers behind me are much better than I am.

I don't know. You pulled it off pretty well.

Ah, thanks, thanks. Good editing will do that.
How was the whole series conceived?

Well, Chris Hardwick's Nerdist Channel was launching, and we are creative friends, always supporting each other. He asked if I would consider having my own show on the Nerdist Channel, and his pitch to me was what if you joined forces with Brian Henson and the Jim Henson puppets. That is the ultimate carrot to dangle for me because I am the ultimate die-hard Henson puppet fan, both of Brian and his father before him.

So I said yes, almost immediately and then needed to figure out what it all meant. There are no rules yet in this world. Because if we were doing this for a cable network or one of the big four networks, there would be a lot more management by other people defining the content or how long they could be or what the budget was. We just sort of went into a big meeting and said, "What would be funny? What would be good? And what is actually filmable?" Lots of ideas came out, and we went back and forth. Finally, Janet Varney, who is one of the executive producers on it, said during brainstorming, "What about if it was dreams. Different kind of dreams." That would kind of root it in some sort of structure, give it some sense, but super freedom.

Once we hit on dreams, we felt it was fantastic because not only can you have every episode be radically different, as dreams are, but you can also be lo-fi with it all, because in the dream, if you try to get Katy Perry and she's not able to do it, you can just use your next door neighbor and call her Katy Perry. [Laughing] "Why do you look like my next door neighbor, Katy Perry?" It freed us up a lot.

We started researching dream archetypes and came up with 40 typical ones. Fear of falling, fear of teeth falling out ...

Forgot to go to class right before you're set to graduate …

Exactly! Being in a place you aren't familiar with and can't get out of. And then we started narrowing those down into what we could film in two and a half days. And even then, everyone was freaked out. The poor crew and director of photography when we were trying to describe the Bollywood episode with green screens and multi-levels and dancers and puppet dancers and branding and spinning and weddings. And he was like, "You want to do this in one afternoon?" And were like, "Totally!"

And in three minutes!

Yeah, exactly! The Bollywood style frees us up a little because, again, my favorite thing about those Bollywood music videos is their use of heart, wipes and old-school technology to create their effects. That's good for us budget-wise. And also production wise.

Were you ever surprised with what you could get away with the puppets? I couldn't believe that some of the dialogue was coming from Henson puppets.

I can't speak for Brian [Henson], but I know that Henson having a lot of their classic Muppets owned by other companies are looking to their next chapter. One piece of that is the Henson alternative puppets, which we used, they are the Miskreant puppets. They have been used for a couple years in a show called, "Puppet Up" and in New York it was called, "Stuffed and Unstrung." They were intentionally adult in content, probably to steer away from the thought that puppets equal kid's educations shows.

So that was fortuitous. They weren't incredibly nervous about swear words or adult content.

It's great how in different episodes you alluded to other elements of the history of the Muppets. Like the reference to "Fraggle Rock."

[Laughing] We had to change some of those. We had a lot of conversations about some of those. We had to change "Fraggle Rock" to Frugal Rock. Well, we didn't have to, but we opted to. We didn't want to actively cause controversy by doing these. That's not our style.

We are all unbearably respectful of puppeteers and puppets and the process that goes into all of it.

Do you have a favorite episode?

Bollywood is easily my favorite. I think the song is very catchy. I think the execution of it, filming it, lip synching. Brian Henson played the cow puppet, himself, so getting to actually do these physical feats on four-foot risers with Brian hunched over on a little trolley train doing circles and having to do these shots with him and be as efficient as possible. That was a very exciting afternoon for me.

I love "Dream Bump." I think it's really funny. The musical ones seem to go really well. I think as a piece of comedy, the Doctor's Office really fits into what we wanted "Puppet Dreams" to be. We have Nathan Fillion as a hilarious guest star, but also, it seems like it's much dirtier than it actually is. That was one with seven puppeteers beneath me on the floor, and I was up on a set that was built on the second floor. That was really fun to do.

They are all really cool.

I had to freeze-frame the credits.

That was my idea. They weren't going to have credits at all because you don't usually have them on the Internet, but there were so many people involved, I felt like we should have credits. But once you start seeing credits on YouTube, you click on something else. So, I thought just a flash of credits would make people go back and freeze them and actually read them. And then within them, I wanted to put some funny credits in them. In every one, we put in "Frank Drumond – Leslie Nielsen," because the "Naked Gun" was really the first movie to do funny credits. So we wanted to give a shout-out.

Now that the last episode is being released, what do you hope is next for the series?

I don't really know. It's a unique series in that we, I, had no master plan. It was entirely experimental. I am indifferent about how many people see them and yet I hope everyone watches them. If there's a Season 2, that's great, if it turns into its own thing, that's great. I kind of just wanted to see what Neil plus puppets would equal. For other things for like a Season 2 or a kids show or a variety show. I'm just a big fan of the puppets. I always fantasize what it must have been like for those guest stars on the original Muppet Show back in the day.

It was such a great shows. People I show them to are like, "Who is Dom DeLuise?" "What is a Madeline Kahn? What does that mean?" I cry a little on the inside.

I am old school. I watched "Fraggle Rock" religiously. HBO was just starting and it was on all the time. I'm anxious for my kids to get a bit older so they can watch that. Doozers rule.

"The Dark Crystal."
"The Dark Crystal!" They need to make a sequel to that. The Darker Crystal.

I'm a big "How I Met Your Mother" fan. Are you happy with how things are progressing? This season has been a little odd.

I am. I'm very stoked that everyone agreed to a Season 9. We have been waiting, literally months and months and months to find out whether the whole thing was going to end this season or one more. It isn't, thankfully, not going to go 10, 11 or 12 seasons because no one wants that, but with a Season 9, they have a really great idea for the entire season that is appropriate for waiting so long for answers. And conversely I'm happy we didn't have to spend eight seasons dancing around a question and then have to answer it in three episodes.

So, yes, Season 8 has been odd because they did this long get of Barney doing this long play to propose to Robin which required several episodes of very non-Barney like behavior from my character which was difficult to play. They kept telling me to trust them, that it would be a bigger play and I'm glad it worked so well. I think the episode, called "The Robin" was a classic episode and it's good to be Barney again. And I get to make out with Cobie Smulders every day.

I also heard Barney may have discovered yet another Robin Sparkles video?

Robin Sparkles may reappear, indeed. And Canadian jokes abound.
Bing: More on 'How I Met Your Mother'

What else are you working on?

I directed this show at the Geffen, two close-up magicians called "Nothing to Hide" and it was only supposed to be a four to five week run, but they just announced another three week extension so it's going to go through mid-February at the Geffen Playhouse in L.A. It is, dare I say, the best night of close-up magic you will ever see. It blows my mind who has gone to see it. I was there a few weeks ago and Barbra Streisand and James Brolin were there. JJ Abrams came, Teller from Penn & Teller has seen it three times and claims it's one of the best magic shows he's ever seen. So, I'm thrilled for them. It's really a fun evening.

Last question: Have you ever run into anyone who has an actual NPH brand tattoo?

[Laughing] No, but I have seen, online, two people who have a Barney Stinson adjusting-his-tie pose tattooed on their arms and shoulders. Crazy. What happens when I get a nose job?
Are you sure you want to delete this comment?