'The Office' star Angela Kinsey cleans up Las Vegas
Veteran sitcom accountant talks series finale, messiest moments and good advice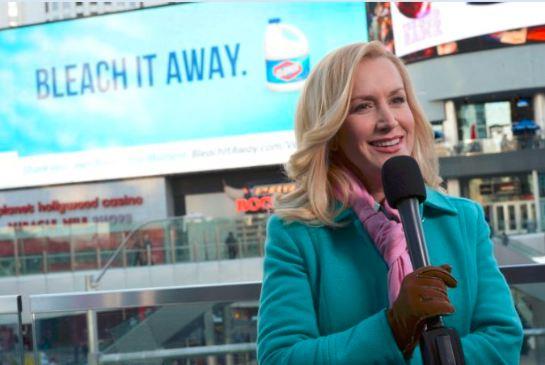 By Minh Nguyen
Special to MSN TV
Angela Kinsey plays Angela Martin, the head accountant we love to hate at the Dunder Mifflin Paper Company on NBC's "The Office".  "The Office" is in its ninth and final season and Ms. Kinsey is only one of six actors that were in every single episode. She's nothing like her character as she was utterly charming, humble, sweet, friendly and a very understanding mother.  
Bing: More on Angela Kinsey | More on 'The Office'

MSN TV spoke to her before she was to go out on the Las Vegas strip to speak to people about their messiest moments on behalf of Clorox. She shared her messiest moment with her four year old daughter, favorite moment from working on the show and best advice with us.

"The Office" airs Thursdays at 9 pm ET/PT on NBC with the season finale on May 16th.

MSN TV: Could you please tell us what you're doing in Vegas?

Angela Kinsey: I am here in one of the cities known for its messiest moments to talk to people about their messy moments on the Vegas strip today. I'm working with Clorox as part of their "Bleach It Away" campaign.
It's a really fun campaign. It's something I relate to as a mom and a pet owner where you can go into the website (
https://bleachitaway​.clorox.com
). You have a chance to win $15,000. People are entering in really funny stuff.
It just kind of reminds us we have to laugh through our messes and we are not alone in it. (Laughing)
What's been your messiest moment?
I have so many messy moments. We have messes weekly. I hope my daughter knows that in our house we can make messes and have fun and we'll laugh through it. Granted I don't want her to trash the house but we do make a lot of messes.
Recently we were talking about our favorite colors and I was saying mine was green. She painted the wall in my living room a nice big patch of green.
You spray some Clorox, wipe it off and then you laugh about it and then say "That's beautiful! Thank you! How about you paint on some paper?"
"The Office" is coming to an end. Have you filmed the last episode yet?
No, we film until mid-March. The finale airs May 16th. It's starting to get really emotional. For sure, for us, Kate Flannery and I were in a meeting the other day talking about the end of the show. We both started crying. These are very dear friends. We've been together nine years.
What's been your favorite moment?
I have so many favorite moments. It's hard to pick.
The Jim/Pam storyline where Jim tells her he loves her. He says, "I just had to tell you once." When they were out in the parking lot, I was like "Forget it!" I was at the table read. I was there but when I'm watching it, I'm just like an audience member. I'm crying.
And then Dwight and Angela, I have so many memories of them. I loved when in the kitchen, he said to me, "We're having a clandestine affair. I want some cookie." I go, "No cookie for you!" Right at that moment Ryan the Temp walks in and he's like, "What is happening?" There are a lot of moments like that.

I read that you had originally auditioned for a different role, was Angela Martin written specifically for you?

No. Angela was a character who was a lady in the accounting department.

I auditioned for the role of Pam. Honestly it was one of the best auditions I'd had. I had prepared and I went in. It was a roomful of people, all these execs. There was a moment where Michael Scott fake fires Pam as a joke. So he fires me and Pam's supposed to cry and call him a jerk. I did that. I started to cry and the whole room started laughing. I didn't think they were supposed to be laughing.

I was told they thought I was really feisty and they thought I was funny when I called Michael a jerk. Jenna Fischer plays Pam so wonderful. In that moment, you see her vulnerability. She is truly afraid she lost this job.

For me, they said, "Pam (is) too vulnerable. You… play the bitch!" They brought me back in. I didn't get the job but a month later, they said, "There's this lady in accounting. She's uptight. She's persnickety." I thought, "I got it!"

What upcoming projects do you have?

I have one I'm really excited about that I can't talk about yet.

The other one I'm working on now is a show with my friend Rachael Harris. I love her so much! We've been friends for sixteen years. She's a hilarious comedienne. We have this show about these women who are starting over in life who are in their forties.

It is just really honest and raw and ugly and hilarious, when you have people that get a do-over late in life.

What will your character's personality be like?

It's sort of loosely based on us. I'm a little bit of a hot mess myself. As Jenna says, I don't read anything. People will send me memos and I'll show up to set and be like, "Wow! Access Hollywood is here today." She'll say, "Angela, we got two memos on it." I'll say, "I didn't read it. I don't know."

I'm also a homebody. I love hanging out at home with my kid. It's hard to get me to leave the house.

My friend Rachael is someone who is really put together. She's always out there making it happen. She gets me out of the house. I'll get her to calm down. That's the dynamic of our friendship.

Best advice you ever got?

I think one of the best things is my mom has really talked to me about being in the moment because as long as you're in the moment, it's such a courtesy you can give the other person. You're saying, "I'm here with you. I'm listening to you. I'm not thinking about what you just happened or about what's going to happen. I'm going to give you my attention.

I think a lot of times we can get distracted and not be in the moment with people and be missing all the life happening in the moment.  
"The Office" airs Thursdays at 9 pm ET/PT on NBC.