Spending the holidays with 'Last Man Standing'
On set with cast of ABC sitcom talking holiday episode and favorites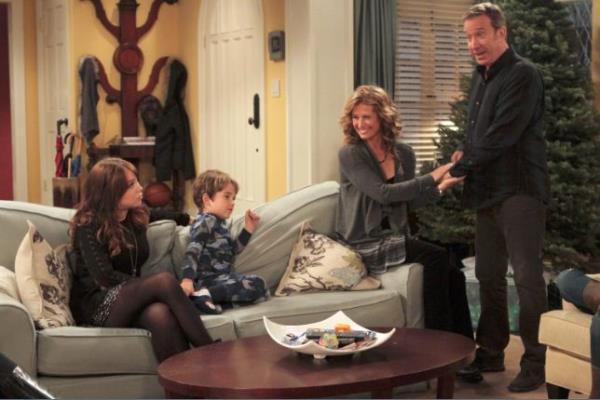 By Minh Nguyen
Special to MSN TV
Just in time for the holiday season, MSN TV was invited to the set of ABC's family sitcom, "Last Man Standing" starring some of Hollywood's favorite TV and Movie veterans such as: Tim Allen, Nancy Travis and Hector Elizondo. Fresh off news that ABC had ordered five more episodes of the show, (Bringing it to a total of 18 for this season), the cast was eager to talk about their upcoming holiday episodes as well as giving us a bit of insight into what they like to watch each holiday season.
Bing: More on 'Last Man Standing' | More on Tim Allen
We were lucky enough to watch a screener of the holiday episode, "Putting a Hit on Christmas" and then chatted with the entire cast, observed them work. In this episode, Vanessa Baxter (Nancy Travis) is worn out and tired from all the festivities and just wants to have a quiet Christmas with her husband Mike (Tim Allen), and if possible,  sans their three daughters and grandson.  When asked, Allen described the episode to us as, "Right before the holidays Nancy's character gets frazzled, as some of us do, thinking there's too much to do and there's too many gifts and blah, blah. When it gets down to it, you want to be there and you want the kids to be there." Of course, other fun ensues as Ed (played by fan favorite Hector Elizondo), mistakenly shoots a bald eagle instead of a turkey.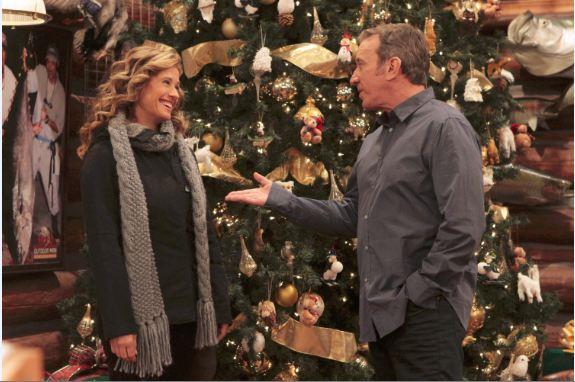 Keeping with the holiday theme, the the entire cast also shared with us what their favorite Christmas movies are:

Tim Allen: I like "White Christmas" where the things open up at the end. There are so many elements that are sad and wonderful and I like that era. The first "Santa Clause" was a great experience and it was a great experience to watch other people (watch it).

Christoph Sanders: "Christmas Story", I think it's all about the dad and the leg lamp and everything. The one with Chevy Chase, "Christmas Vacation" (because) more than anything it's nostalgic for me; we watch it every year as a family when I go home.

Hector Elizondo: "A Miracle on 34th Street" made an impression on me as a young man, I was tougher then. Something grabbed me and I didn't understand why until I saw the movie many times in my adult life. "It's a Wonderful Life" had enough of a philosophical point of view, enough of doubting. If you look at it in later years, it has enough of an edge (so) it keeps it fresh.

Molly Ephraim: "Elf" and "A Christmas Story". "Christmas Story" because of the onesies; when I go home for Christmas breaks, my brother and I go to Target and get matching onesies. We're adults. "Elf" with Will Ferrell eating the spaghetti with all the candy on top (is endearing).

Kaitlyn Dever: Mine would have to be "Elf" and the "Santa Clause" movies. Seriously I've watched them my whole childhood and it's really cool working with Tim now.

Amanda Fuller: To tack on to theirs of course, "Home Alone", that was when I grew up.  It's one of those nostalgic movies. I have three older brothers so we all laugh, with the prankster thing. "It's a Wonderful Life" (because it's a) classic, tears, (it's) beautiful.

Nancy Travis: I think "The Sound of Music" and "Gone With the Wind" because it's always on at this time of year. I was infatuated with Vivien Leigh and wanted to be her. There's a trajectory there.
The Christmas episode of "Last Man Standing" airs on Friday, December 14th at 8 PM ET/PT on ABC.