Daytime in 2011: A Shifting Landscape
A big year of goodbyes, hellos and shakeups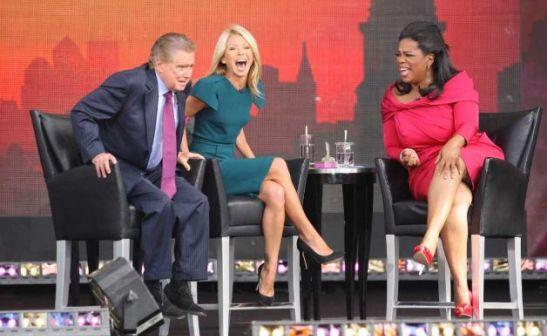 2011 found daytime in the midst of a massive overhaul, which meant tons of changes, from the exits of Oprah Winfrey and Regis Philbin and the end of "All My Children" to the talk show boom that's still picking up steam. With soap operas having lost their ratings might, networks are looking for less expensive programming options, which translates into finding creative twists on the talk show format. Here's a look back at the big daytime moments of 2011.
The Goodbyes: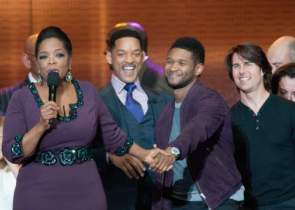 "The Oprah Winfrey Show"
: After 25 years of ruling daytime, Oprah Winfrey said goodbye to "The Oprah Winfrey Show" on May 25 so that she could focus on taking her OWN network to the next level. Winfrey's star-studded farewell show was the event of the season, but seven months later, the fledgling net is still struggling. Even Oprah's BFF Gayle King abandoned ship for a gig on to CBS's revamped "The Early Show," but Oprah knew launching a new network would be an uphill battle for the first few years. OWN is still in the game, especially with
"Oprah's Next Chapter"
premiering Jan. 1 on OWN with the promise of "in-depth revealing interviews and once-in-a-lifetime experiences, from the ends of the big, beautiful earth to Oprah's own backyard."
Bing:
More about Winfrey's OWN Network
"All My Children"
: The
end of Erica Kane's reign on daytime
was a massive hit to "All My Children" fans, but also to the soap opera genre, in general. Once ABC sister show "One Life to Live" takes its bow with a Jan. 13 finale, only four will remain, including "The Young and the Restless," "The Bold and the Beautiful," "General Hospital" and "Days of our Lives." That coupled with the talk show takeover has soap fans in a bit of a panic over the remaining shows, especially ABC's final soap, "General Hospital."
Prospect Park's on again/off again/on again efforts
to re-launch the exiting ABC soaps on the internet only confuses matters, while also forcing the shows to close with less satisfying cliffhangers, instead of happily ever afters. Stay tuned to see if Prospect Park can succeed in finding a new home for the soaps in 2012.
Bing:
More about Prospect Park and 'All My Children'
Regis Philbin
: After 28 years of good mornings, the
daytime icon retired from "Live! With Regis and Kelly,"
with an eye on taking over primetime. The end of 2011 was spent
building up to his exit
and after a star studded finale, co-host Kelly Ripa started working with a revolving door of manly co-hosts in search of Reege's permanent replacement. So far, she's
tested her chemistry with guys like Jerry Seinfeld
, Neil Patrick Harris and her hubby Marc Consuelos. Stay tuned see who lands the spot in 2012.
Meredith Vieira
: When Vieira stepped down from her post at "Today," she got a big star studded send out, while it also sent waves of speculation about the rest of the morning show's cast. Matt
Lauer insisted he was staying put
, but that hasn't stopped rumors about his exit or
the show romancing Ryan Seacrest
.
The Hellos: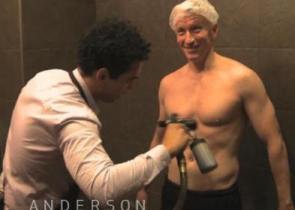 Anderson Cooper
: The CNN newsman has taken on daytime with gusto since
launching "Anderson" this fall
. He's getting personal with viewers, which has meant everything from sharing his foibles to having his mom as a regular guest, but not speaking out on whether or not he's gay. After a year of
debate over whether or not he "should" come out
, new rumors from Gawker suggest he may make a big boyfriend reveal during February sweeps. Seems unlikely, but stay tuned...
"The Chew"
: After premiering to a maelstrom of anger from "All My Children" fans, the new food-centered talk show managed to kick off with
surprisingly digestible ratings
this fall -- because who doesn't love food? The fledgling show is still struggling to find itself -- not to mention room for its five co-hosts, Mario Batali, Michael Symon, Carla Hall, Clinton Kelly and Daphne Oz -- but it's getting there. Last Thursday's holiday episode featuring guest Dr. Mehmet Oz ranked as the series' #1 telecast to date in total viewers (2.71 million). The show also grew its audience for the third consecutive week in the coveted group of women 18-34 and out-performed the year-ago weekly average for "All My Children" by 4 percent. 
"Dr. Drew's LifeChangers"
: Dr. Drew brought
self help to daytime this fall
. He tends to avoid celeb-centered shows, but gives in for ratings. After Lindsay Lohan stood up both
Matt Lauer
and
Ellen DeGeneres
, for example, Dr. Drew made news for
luring Michael Lohan to daytime
 on Wednesday, Dec. 29, to talk about Lindsay's Playboy shoot and his own drama. 
The Shakeups:The Soap Opera shuffle
: With the soap genre in danger, the remaining shows are doing everything they can to keep viewers tuning in, which has mean a year stocked with behind the scenes shakeups and big cast changes on all the daytime soaps, but most publicly at "
Days of Our Lives
" and "
General Hospital
."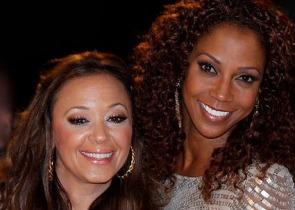 Talk about "The Talk"
: After rumors swirled about behind the scenes scuffles and Julie Chen's dominating hand, "The Talk" returned for its second season
without co-hosts Holly Robinson Peete and Leah Remini
at the table. Sheryl Underwood and Aisha Tyler stepped in to replace them and just this week,
cohost Sharon Osbourne revealed
the recasts happened because the chemistry just wasn't there with Peete and Remini, who "don't really know who they are."
"The Nate Berkus Show"
: Oprah faves Dr. Mehmet Oz, Dr. Phil McGraw and Rachael Ray continue to prosper on their own talk show spinoffs, but Nate Berkus' design and celeb showcase won't be getting another season in daytime.      
Coming Soon: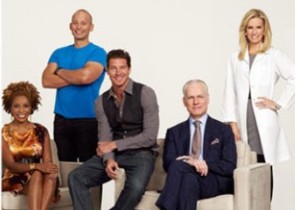 "The Revolution"
: Tim Gunn, Ty Pennington, Harley Pasternak, Dr. Jennifer Ashton and Dr. Tiffanie Davis Henry clock in as daytime's newest cohosts. Their "inspiring lifestyle show" is
set to premiere Monday, Jan. 16 on ABC
. 
Fall 2012 Talk Show Boom
: Expect some big daytime action in Sept, 2012, when
Katie Couric
,
Ricki Lake
, Steve Harvey and
"Survivor" host Jeff Probst
will launch their new talkers.
Queen Latifah
is also set to join the talk show party in 2013.