Ignacio Serricchio talks 'Young and the Restless'
Will the former 'General Hospital' villain bring trouble to Genoa City?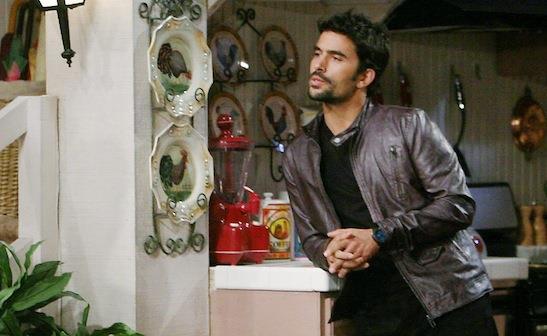 A streetwise undercover cop with a big secret shows up on "The Young and the Restless" Friday, Dec 7, and with Ignacio Serricchio in the role, that could spell trouble for Genoa City. Daytime fans may recognize the Argentinian-born hunk from his stint as Diego Alcazar on "General Hospital." Mob boss Alcazar's long lost son stirred things up from 2004-2006 and then returned from the dead in 2008 to terrorize Port Charles as the Text Message Killer. Serricchio has since built a healthy list of credits, including stints on "The Client List," "CSI: Miami," "Covert Affairs" and the Emmy nominated web series "The Bay." His new character, Detective Alex Chavez, portends to be on the right side of the law, but fans will have to wait and see how that plays out.
Bing: More about "The Young and the Restless" | Ignacio Serricchio 
On Thursday, Serricchio will join incoming "The Young and the Restless" hunks Redaric Williams (Tyler), Lamon Archey (Mason) and Marco Dapper (Carmine) for a visit to "The Talk." There may be a few interesting reveals during the daytime talk show visit, but MSN TV got a hold of Serricchio first. Here's what he had to say about his newest gig.
MSN TV: How's life in Genoa City?

Ignacio Serricchio: Life is good.
Anytime someone comes to town with a secret, that spells trouble.
Yeah, and my track record shows that that's what I do. I bring trouble, anywhere I go!
What can you tell us about your character, Alex?
He's a cop. He's trying to find somebody. He's working on a case and comes in because he believes there's a couple of people in town that have kept in touch with this girl he's trying to find.
Does he know anybody in Genoa City?
No, no. He's a complete stranger.
Who will he interact with?

I've actually had scenes with a lot of people, already. Noah, Kevin, the D.A., Chelsea, Chloe. Because he's investigating, he runs into everybody. Some people don't know why he's there, this New York cop that's a little abrasive and shaking things up in Genoa City.

So he doesn't enter quietly?

Oh no. I never enter anywhere quietly. I don't expect my characters too.
Have any of Genoa City's lovely ladies caught Alex' eye yet, or vice versa?
Not yet, unfortunately. I hope it will happen, eventually.
He first pops up Friday, Dec. 7 and then we won't see him until Monday Dec. 17. How long will it take for viewers to get a handle on this guy?

It'll be a little bit, but not too long.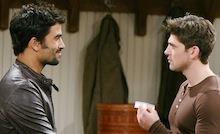 You've worked in daytime and on the web series "The Bay," which is packed with soap stars: Did you already know anyone at "The Young and the Restless"?
I do indeed, after "General Hospital" and all the events we used to do, but the only person I had worked with at "Y&R" was Robert Adamson (Noah). He was on "Lincoln Heights" and I did an episode back in 2004. I also played an undercover cop that time. That was pretty neat.
So in spite of your daytime history, you're still the new guy on set?
I'm meeting new people every day and I get lost at the stages every day. (laughs) I'm very new.
Is there anybody you're looking forward to working with?
I honestly never followed "The Young and the Restless." I'm slowly starting to get the hang of everybody. It's just a very talented group of people. So far, everyone I've worked with has been surprising and challenging. It's been great. I like surprises. I like to be kept on my toes.
You've now worked with executive producer Jill Farren Phelps twice, on "General Hopspital" and "Lincoln Heights." Did she just call you in for this or did you go through the regular casting process?
Jill called me up and said she would love to work with me, yet again. I'd do anything for that woman. She started my career. We worked it out so that I could come and talked a bit about what the character might be. She and I get along so well and understand each other. We both want the same thing: Always to have fun, be creative and push boundaries.
Would you like to see Alex get into trouble, fall in love--
I want everything! I want all the elements. I've been blessed with some great roles so far. They've all be intricate and full of secrets.
You've also been involved with "The Bay." What's the status of that web series?
I don't know. I haven't spoken to Greg [Martin, showrunner] in a bit, but for sure he's working hard, as always.
What would you say to convince soap fans who haven't picked up on the web series phenomenon and "The Bay," in particular, to get them to check it out?  
You've got more locations, lots of action and that cool look, so it's a bit closer to prime time television. I worked with Martha Madison (ex-Bell, "Days of Our Lives") quite a bit. We had chemistry from the beginning and over there, I can feel comfortable pushing the limit and she reciprocates. And Lilly Melgar has just got that Latin fire, so our first scene was some Spanish, some yelling. Hopefully we'll see more of that, because that's fun for me.
Will you use your Spanish on "The Young and the Restless"?
Who knows? Another language would be fun, too. I speak Spanish, French, Italian, Portuguese.
Can you tell us anything else about what's ahead for you and Alex in Genoa City?
I wish I could, because I wish I knew!
So you're still in the dark too?
Oh yeah, and I love it! It's almost like real life.
But we don't get a script in real life.
Thank god!
"The Young and the Restless" airs weekdays on CBS. 
Images courtesy of JPI