'Young and the Restless' Hunk Alert
CBS soap beefs up with two new leading men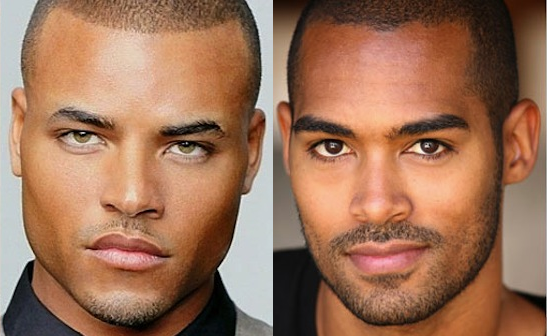 There was buzz that "The Young and the Restless" was working on casting a new African American leading man. The CBS soap has upped the ante by signing two hunks, instead. Models Redaric Williams and Lamon Archey are seriously good looking and due to hit the athletic club and the coffee house in November.
Bing: More about "The Young and the Restless" | Redaric Williams | Lamon Archey    

"The Young and the Restless" power shift that brought in executive producer Jill Farren Phelps and headwriter Josh Griffith led to a flurry of exits and recast, as well as buzz that the show was looking to beef up the African American presence in Genoa City. While Phelps said longtime star Kristoff St. John (Neil) was due for a hot love story, there were also rumors the show was casting a young hunk for the role of Tyler Douglas, who may or may not be Sarge's (Darnell Williams) nephew.
Plus: 'The Walking Dead' fantasy draft | TV superheroes from A to Z
Now, the show has cast two hot models-turned-actors​, according to EW. As that story notes, these two could definitely give "The Young and the Restless" graduate and longtime fave Shemar Moore (Malcolm) a run for his money. 
Redaric Williams has landed the buzzed-about role of Tyler. Williams' "The Young and the Restless" screen test actually hit the 'net this summer, fueling all the rumors about the new role. The video was yanked from YouTube and made private, but revealed that Tyler may be coming to work for Neil at Jabot and hinted the relationship with Sarge. Lily may also be the first local he meets. Could that mean trouble for Cane and Lily?
Williams, an international model who is the face of Carling Black Label in South Africa, boasts stints on "Damages," a small role in the war film "Allegiance" and some TV commercials. This marks his first regular role since he was 11 and had recurring gig on a Canadian kids' TV series. Above is a peek of Williams' acting demo from YouTube.
Lamon Archey has been tapped to play another new character, Mason. There's no buzz about this character, at all. Archery steamed up music videos from Destiny's Child and Keyshia Cole, as well as the short "The Decision." As you can see from the clip above, he's also an avid boxer. 
"The Young and the Restless" airs weekdays on CBS.