McCullough and Hughes Talk Reunion, Robin's Exit
They promise to entertain fans and audiences of 'General Hospital'
On "General Hospital," Patrick (Jason Thompson) surprised Robin (Kimberly McCullough) by tracking down her mum, Anna Devane (Finola Hughes), for Valentine's Day. The visit won't be all laughter and roses, however, even though Emma Samms' Holly and Tristan Rogers' Robert are getting in on the Scorpio reunion starting Feb. 28 and 27, respectively. With McCullough set to exit the show sometime soon, things take a dark turn on Monday, Feb. 20. MSN TV got lost in the nostalgia with Hughes and McCullough when we spoke after Valentine's day, but the duo also promised wild story ahead. Check out the video of our chat, and read what they had to say about it all.
Bing: Watch clips and full episodes of "General Hospital"

MSN TV: How is the mother-daughter reunion going?


Finola Hughes: Great!
Kimberly McCullough: It's going awesome. It's so much fun. Finola's first airdate was [Valentine's Day] and I made a point of watching the show, because I was so excited. It's just so cute to see her with little Emma, as well.
I know! It was such a time warp - like watching you with Kimberly. Did you make you feel nostalgic, Finola?
Hughes: It was exactly the same. Here was this little five-year old Brooklyn (Rae Silzer) starting out in the same way that Kimberly did when she was seven. I had all the same things to do with her, but I have to say, when I was working with Kimberly, we were working in a different sort of system. It was very improvised. Very loose. We used to just talk around the plot and maybe every now and again dip our toe in the actual storyline.
McCullough: I don't remember ever having a mark. Now a days, you're mark is very important.
Hughes: I remember that the camera man used to just follow us.
McCullough: Literally!
Hughes: Suddenly you'd see someone lifting up the skirts of the camera and trying to get across, because Tristan – usually it was Tristan – would be wandering off toward the kitchen. It would have nothing to do with what was going on.
McCullough: Yeah, he would just happen to get a drink in the middle of the scene.
Hughes: It was a lot more loosey goosey, back in the day.
Do you remember the very first scene you shot together?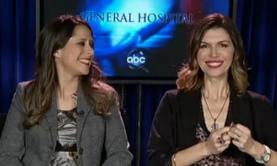 McCullough: I don't. I remember my camera test, more than anything.
Hughes: I remember the camera test too. It was a big deal. [Former executive producer] Gloria Monty said [to me and Tristan], "I think I have a girl upstairs who can improvise with you two." We go upstairs and there's this gorgeous little girl in the middle of the set. We just started improvising with her, like anything. We were throwing things at her and she was just talking away. Tristan and I were looking at each other over her head going, "This is it! This is what we wanted," because the pair of us would never stick to anything we were given.
McCullough: That was the test. There were two other little girls. It was down to the three of us and that was the tie breaker, if you will: Can Kimberly keep up with Tristan and Finola?
Hughes: It was crazy.
McCullough: Apparently, I did. Then it became keeping up with Kristina [Wagner], Jack [Wagner] and John Reilly.
Hughes: It was kind of chaotic back then, but a lot of fun. But I do remember something about the first scene. I think I was wearing a blonde wig. It's so strange. I didn't tell Robin I was her mother. She called me Luv and I remember going to some sort of cabin where she was kept. There was a bunk bed. It was almost like summer camp.

McCullough: It's coming back to me now. I remember the blonde wig.
Hughes: I don't remember much about it. We'll have to look that up.
Of all the scenes you've shot together over the decades, what has been your most favorite or memorable?
McCullough: There's one that was equally memorable for both of us, and I don't know if that happens a lot. That was during the Asian Quarter storyline, when Robin was hiding these pearls in her doll's eye. Everyone was looking for her and Anna saw her. We ran toward each other arms and we found each other. We tried to emulate that moment over the years, like when I found that she was alive, we did that again.
Hughes: We did. They did it when I was on "All My Children" and Kimberly came out to play a scene where Robin has a feeling about something and goes to this house, where I was living. We open the door and the production team slowed it down.
McCullough:They did it the same as we did it in 1986, whatever it was.
I've been given the signal to wrap up, but first: Emma and Tristan are also returning. What was it like to have the whole team back together, again?
Hughes: That was fun. We just got to catch up.
McCullough: Really fun. I never got to work with Emma a lot, so that was cool. And Tristan is just the same. I don't know if that makes that much sense. You just see someone later on in life and you're like, "Oh my god. They're just the same!"
Hughes: Exactly the same. Tristan is like slipping on a well-worn leather shoe.
Fans are concerned and upset over what's to come for Robin. Kimberly, how do you feel about the way Robin's exit is going to play out?
McCullough: You can expect something big to happen that affects a lot of characters around Robin and in the rest of the show, too. You can expect some great drama. I don't know how I feel about it yet, because I'm still in the thick of it.
Hughes: Definitely stay tuned, because there's going to be some interesting twists and turns. It's a big storyline and I think the fans are going to want to watch.
Do you have a message for fans who are so concerned and worked up right now?

McCullough: Hang in there and keep watching! Let us entertain you.
I sort of can't wait to see how this plays out… but I sort of don't want to see it!
McCullough:  Oh, you'll be fine.
"General Hospital" airs weekdays on ABC.