Look Who's Talking in Daytime: April 23 to April 27
'GMA' victory lap, big-screen teasers, reality roundups and primetime previews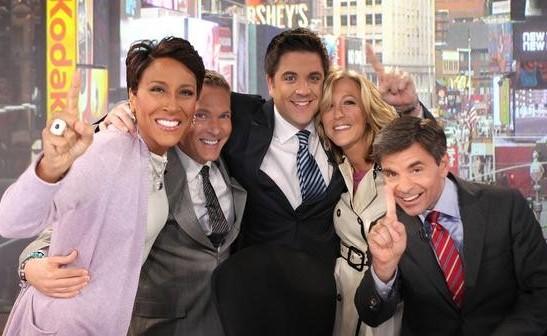 "Good Morning America" is still celebrating its first big ratings win, not to mention Robin Roberts' 10-year anniversary as co-anchor. The "GMA" crew will even bring the party to "The View" during the week of April 23, while "Live! With Kelly" brings back co-hosts Mark Consuelos, Mario Lopez and Jesse Palmer. Big-screen stars from "The Five-Year Engagement," "The Raven" and "Bernie" are popping up around daytime. Topher Grace, Kathleen Turner, Julie Andrews, Garry Marshall, Cynthia Nixon, Carson Kressley, Rachel Maddow, Marilu Henner, Jeremy Kyle and Kourtney Kardashian are also making the rounds. Primetimers coming out before dark include stars from "Modern Family," "Community," "How I Met Your Mother," "The Office," "Don't Trust the B--- in Apt 23," "The Vampire Diaries," "The Borgias," "In Plain Sight," "Private Practice," "Desperate Housewives," "Smash" and "Nikita," as well as stars, contestants and castoffs from "The Voice," "Dancing With the Stars," "American Idol," "America's Got Talent," "Amish: Out of Order" and "Beverly's Full House." Plus, don't miss performances from Daughtry, Train, The Wanted, NEEDTOBREATHE, Chris Botti with Vince Gill, Grace Potter and the Nocturnals, Josh Baze and iLuminate.
Also: What shows will be returning next season?
Schedules subject to change. Repeat notation provided when possible.
"Anderson"
Mon: Debra Messing
Tues: Topher Grace, alien abductees 
Wed: John Cusack, Lara Spencer and Paul Brown
Thurs: "Amish: Out of Order" castmembers, Marilu Henner
Fri: "DWTS" castoff, Mystery Guest
Bing: Watch clips and episodes of 'The Ellen DeGeneres Show'

"The Ellen DeGeneres Show"
Mon: Sharon Osbourne, Maria Menounos and Derek Hough; Roberto Martin
Tues: Jesse Tyler Ferguson, Rita Wilson, Cory Booker; Grace Potter & the Nocturnals perform
Wed: Jack Black, Cobie Smulders
Thurs: Adam Levine, Sophia Grace and Rosie
Fri: Hugh Grant; iLuminate performs
"Good Morning America"
Mon: Sarah Jessica Parker, Kate Walsh; Vince Gill and Chris Botti perform
Tue: Marilu Henner, Kelly Bensimon
Wed: James Van Der Beek, The cast of "In Living Color," Sam Champion and Jack Hanna, the outsted "Dancing with the Stars" couple
Thurs: The cast of "One Day at a Time," Olivia Newton-John ; Katherine Jenkins performs
Fri: The cast of "Laverne and Shirley," Marisol Nichols; BHS at "DWTS," Emeril Lagasse
"Live! With Kelly"
Mon: Kate Walsh; the latest "American Idol" castoff performs; guest-host Jesse Palmer
Tue: Hugh Grant, Blair Underwood; guest-host Jesse Palmer
Wed: Kathleen Turner, James Van Der Beek; Ashanti performs; guest-host Mario Lopez
Thurs: Jenna Fischer, Garry Marshall; guest-host Matthew Broderick
Fri: Maggie Q., Katherine Jenkins and Mark Ballas; Daughtry performs; guest-host Mark Consuelos

"The Rachael Ray Show"
Mon: Zac Efron, Father Peter Young
Tues: Julie Andrews, Paul Wesley
Wed: Vanessa Williams; NEEDTOBREATHE performs
Thurs: Bobby Flay and Giada De Laurentiis
Fri: Kourtney Kardashian

"The Talk"
Mon: Randy Jackson, Agapi Stassinopoulos
Tues: Julie Andrews; Train performs
Wed: Kevin Nealon
Thurs: Mary McCormack, Paul Bartolotta
Fri: Tori Spelling


"Today"
Mon: Rashida Jones, Andy Cohen
Tue: Ricki Lake, Jennie Garth
Wed: Julie Andrews, Emily Blunt, Blythe Danner; Neon Trees performs
Thurs: Zac Efron and Taylor Schilling; Train performs
Fri: Padma Lakshmi

"The View"
Mon: Jeremy Irons, Giuliana & Bill Rancic; Chris Botti with Vince Gill perform
Tues: George Stephanopoulos, Robin Roberts, Josh Elliott and Lara Spencer
Wed: Joel McHale, Marilu Henner; The Wanted performs
Thurs: no celebs on the docket
Fri: Jason Segel and Emily Blunt, Jessica Kirson, Dr. Bruce Katz, Phil Lempert

"The Wendy Williams Show"
Mon: Cynthia Nixon, latest contestant fired from "Celebrity Apprentice"
Tues: Beverly Johnson and Anansa Sims, Jeremy Kyle; Josh Baze performs
Wed: Carson Kressley, Rachel Maddow
Thurs: Kim Zolciak, Danny Pudi, Rocco DiSpirito
Fri (rerun): Blair Underwood, Marilu Henner, Linda Hogan