Howard Stern Makes His Rounds on Daytime TV
The shock jock, new 'Got Talent' judge checks into 'The View,' 'The Talk' and 'Today'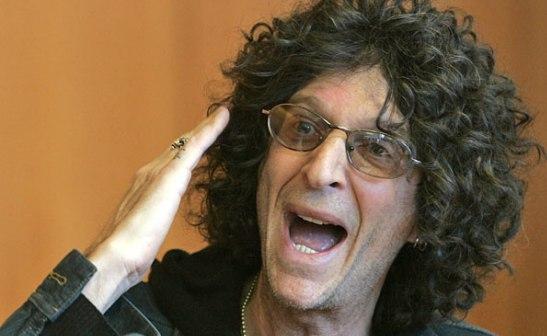 As previously reported, Howard Stern is heading to "The Talk" for a sit down with his "America's Got Talent" cohort, Sharon Osbourne the week of May 14. First, however, the newly appointed "AGT" judge has a live date with the ladies of "The View" on Thursday, May 10. With all the buzz about him being an honest, yet compassionate judge, the shock jock will likely try to share his softer side with daytime audiences. 

UPDATE: Stern will also stop by "Today" on Thursday, May 10.
Bing: More about Howard Stern | 'America's Got Talent'
"The View" is dedicating an entire hour to talking to Stern, who will sit down with the whole panel of hosts and be their only guest for day. Guests for the rest of the week include Ricky Martin (Broadway's "Evita"), Christina Ricci ("Bel Ami" and "Midsummer Night's Dream"), Eva Longoria ("Desperate Housewives"), Robin Roberts ("Good Morning America"), Dr. Phil McGraw ("Dr. Phil"), Giada De Laurentiis. The week of May 7 also promises musical performances from Norah Jones and the cast of "Evita" (featuring Martin).

Also: Is your favorite show returning next season?

Then Stern will pop up on CBS daytime the week of May 14, when "The Talk" heads to New York City. Other guests on "The Talk" during its East Coast visit include Tom Selleck ("Blue Bloods), Jesse Tyler Ferguson ("Modern Famliy"), Rachael Ray ("The Rachael Ray Show") and Michael Weatherly ("NCIS"). Stay tuned for Stern's specific air date.

"The View" airs weekdays on ABC. "The Talk" airs weekdays on CBS. "Today" airs weekdays on NBC.