Anthony Bourdain bids adieu to Travel Channel
Celeb chef promotes 'No Reservations' finale, talks trash, hangs out with 'The Wire' star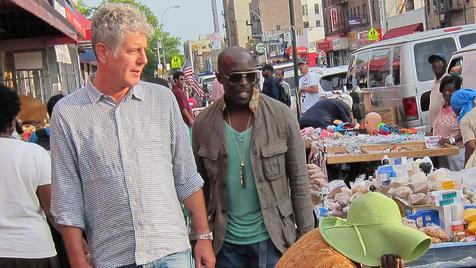 Celebrated gastronomist and explorer Anthony Bourdain has shot his show, "No Reservations," in 57 countries and entertained fans for eight seasons and 134 episodes.
So it's no wonder the Emmy-nominated chef is ready for a change. His new CNN and ABC shows debut next year. In the meantime, the last installment of "Anthony Bourdain: No Reservations" airs Monday, Nov. 5, on the Travel Channel.
Bing: More on 'Anthony Bourdain: No Reservations' | Anthony Bourdain
To promote the series finale, the 56-year-old native New Yorker chatted up reporters during a recent teleconference in which he took verbal jabs at Adam Richman -- his soon-to-be former network co-worker -- and travel guru Rick Steves. He also teased some great guests, who will appear in the finale, which takes place in Brooklyn.
Plus: How real is reality TV? |  TV's hottest hairdos 
When asked if him or Steves, of "Rick Steves' Europe," has the better job, Bourdain said he does.

"Rick Steves has to be nice, and he has to wear mom jeans," Bourdain quipped. "Wouldn't it be great if Rick Steves got like completely hammered? I'd love to do a crossover show with him, get him all f---ed up and in trouble."
Bourdain was a little more kind to Richman, star of "Man v. Food." "He's a friend. I like Adam," the husband and father said of Richman. "I just, I feel bad. I worry for his health."
Also: TV jobs and workplaces we'd love to have
Bourdain also compared "No Reservations" to "The Taste," the cooking competition show he will co-host with Nigella Lawson on ABC next year.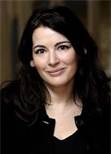 "'No Reservations' is a purely creative enterprise over which I have total and complete control," he said. "We don't really care whether people like it or not. We're just trying to make it as good as we can.
"'The Taste' is a big network competitive reality show with a lot of conventions that one must adhere to," he added. "That said, I had a really, really enjoyable time doing it. It was fun from the beginning to the end."
The rather tall bon vivant also said his CNN show will be a lot like "No Reservations" but with a better budget and travel infrastructure.
But that's the future. For now, Bourdain said he wants fans to enjoy the final installment of "No Reservations," which takes place in a part of New York he rarely visits, despite it being so close to where he lives.
As a part of the episode, Bourdain eats at the chef's table at Brooklyn's only three-star Michelin restaurant and hangs out with actor Michael K. Williams , aka Omar from "The Wire". There's even a "Wire" reunion of sorts when Jamie Hector aka Marlo unexpectedly shows up.
"I'm a huge fan of his work on 'The Wire' and a huge fan of that show in general," Bourdain said of Williams. "I work with David Simon on 'Treme' and I was aware Michael comes from Flatbush in Brooklyn. We're always looking for somebody from a particular area to talk about it and show me around.
"But it was also an opportunity to meet somebody I really look up to and admire. Has there ever been a cooler character on TV than Omar?"
"Anthony Bourdain: No Reservations -- The Final Tour" airs Monday, Nov. 5, at 9 p.m. ET/PT on the Travel Channel.