Tom Arnold a Surprise Roseanne Roaster
Plus, Jeff Ross crosses line with Aurora shooting joke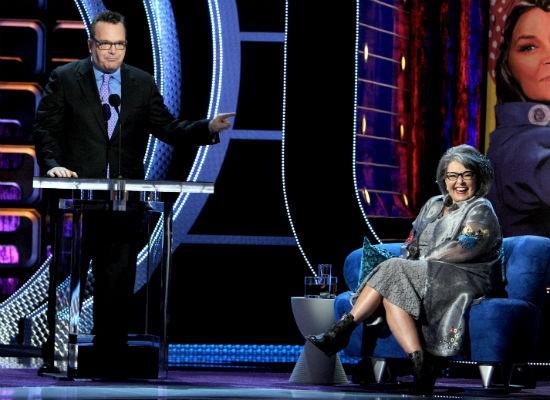 He had to. In order for life on earth to continue mostly making sense, Tom Arnold just had to make an appearance on Comedy Central's Roseanne Barr roast, which taped Saturday night in Hollywood. And he did.

Bing: More about Roseanne Barr | Tom Arnold | Comedy Central Roast of Roseanne

"She actually had 'Property of Tom Arnold' tattooed on her hip," Arnold said, according to Entertainment Weekly, "which made me the fourth largest property owner in California." According to Zap2It, Barr's ex-husband also scored with: "I'm not here to tear Roseanne a new one, because I've seen the old one."


Barr acted as though Arnold's appearance was a surprise to her. It was certainly a surprise to the audience, considering the promises Arnold made to the press about not attending. However, according to EW, Barr admitted to reporters after the show that she and Arnold discussed his appearance ahead of time.


Other roasters included Seth Green, Katey Sagal, Wayne Brady, Carrie Fisher, Ellen Barkin and comics Jeff Ross, Amy Schumer, Anthony Jeselnik and Gilbert Gottfried. The ceremonies were hosted by "Glee" star Jane Lynch.

Plus: The fate of your favorite shows | 2012 Primetime Emmy nominees

According to EW, the jokes seemed "relatively tame." However, Ross did his usual envelope-pushing. The "Roastmaster General" showed up dressed as disgraced late Penn State football coach Joe Paterno, accompanied by two college-age boys wearing towels around their waists and football helmets. And Ross drew a loud groan from the audience after comparing Green unfavorably to Aurora, Colo. shooting  suspect James Holmes, saying: "At least he's doing something in a movie theater that people remember."


"That crossed the line," Barr told EW after the roast. "But comedy is about moving the line … And where is the line in a country that has freedom of speech? Maybe there isn't one."


"The Comedy Central Roast of Roseanne" airs Sunday, Aug. 12 at 10 p.m. ET/PT on Comedy Central.