'Days of our Lives' James Scott and James Reynolds on the Campaign Trail
EJ vs. Abe: Let's keep this fight dirty!
The election in Salem is heating up, with mayoral candidates EJ and Abe set to face off in more debates on "Days of our Lives" in the new year. MSN TV caught up with the campaigners and no surprise, James Reynolds (Abe) and Renee Jones (Lexi) maintain Honest Abe is the obvious choice for your vote, but James Scott (EJ) also found an argument in support of villainous EJ. One thing they can all agree on: It's time for these campaigns to get dirty!
Bing
: 
More on "Days of our Lives"
 | 
Watch full episodes and clips
"I hope it becomes filthy!" Scott cheers with a deliciously evil grin. "I hope it drags Abraham into the gutter, so he has to fight with his gloves off for once in his life."
Reynolds and Jones would also be happy to see EJ take some hits from his brother-in-law, but Abe may not be the one who takes off those gloves. "Abe's my family and I'm not protective anymore: I'm pissed. I'm going to do some fighting!" Jones says in character. "Lexi is not one to be messed with, but I think they forgot that."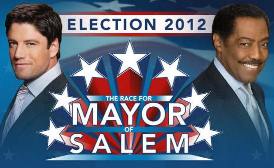 Whether or not Abe's campaign goes dirty, it's hard to imagine EJ playing it straight, let alone doing right by Salem if he wins.
"If you want to see what Salem looks like with EJ as mayor, think of the town in 'It's a Wonderful Life' when he's dreaming of how bad it would be," Reynolds warns.
So what does Scott say? "EJ would make a really good mayor," he campaigns. "He's a candidate that shows that he has a very progressive social and environmental policy. He believes in breaking down society and breaking down any environmental policy.
"He is going to be in charge of the police, which is fantastic, because those do-gooding Brady's are all over the police force. It's going to be wonderful to call Bo and Roman up to my office and say, 'Hello boys, I'm the boss!' That's going to be the best part. Also, he's probably going to change laws to give himself immunity from any possible crime. It's going to the beginning of a new-- not a dictatorship, exactly, but it's going to be a new era of politics in Salem. I think it's going to be fun, really. The guy's a crook!"
As you can see in the video above, Scott is being a bit tongue in cheek about it all, but he has a point. Mayor EJ may not be good for the town, but he would certainly make for interesting story on "Days of our Lives."
Scott also figures EJ's evil ways will fit right into the job. "EJ's a crook who's getting into politics. Most politicians get into politics and then become crooks, so it's going to be fine," Scott maintains. "He just has a head start on all these other politicians."
"Days of Our Lives" airs weekdays on NBC