'True Blood' Talking Points: Curl Up and Fry
There's double-dealing and seduction aplenty on this week's 'True Blood'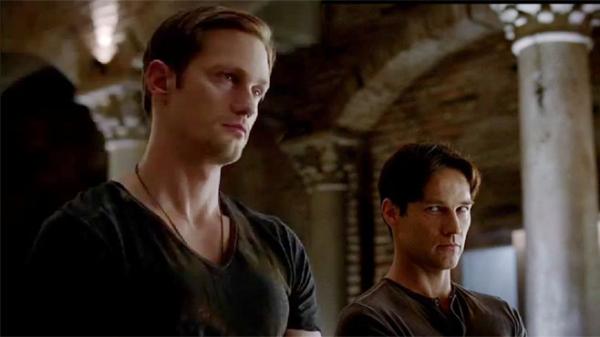 Three episodes into season five and it's another week of slow-build on "True Blood" -- with more double-dealing, some killer angst, and a healthy dose of sex -- as the show gears up for it's bigger reveals and shockers in the war between the Authority and the Sanguinistas. 
Bing: More on "True Blood" 
Here's what you need to know to get by at the water cooler.   
The Authority leader Roman called Russell Edgington the Sanguinista's Osama Bin Laden. "The humans will rise up," he said. "This council is the only thing preventing a civil war." So he needed a public face who could sell water to sailors. Yup, Steve Newlin. And Steve declared "humans are not rational – you tell 'em what you wanna believe and I'll sell it to them."
A spunky minion played by Tina Majorino prepped Bill and Eric to go out on their mission with an iStake, a tracking and killing devise that would pretty much emplode them via an app if they made one wrong move. "Don't f— around, okay. You guys are too cute to be goo."
Thanks to Holly's vengeful kid, Sherriff Bellefleuer's ass ended up on Facebook, quite literally. So he asked the witch to go steady. But then it was back to work: Debbie Pelt's parents showed up asking about their daughter. So he took them to see Alcide, who said she was probably holed up on the blood again. Then Andy questioned Sookie, who said again that Debbie was a V addict. "V addicts have parents, too," Andy said. 
At Fangtasia, Pam refused to help Sookie find Tara – and in fact shoved her across the room – so Sookie used her faerie light fireball on her. Meanwhile, newbie vampire Tara was still pretty damn hangry, so she nearly ate someone. But the chick had a cross in her car, which made Tara lose her appetite. Then Tara looked for help from former flame Sam. So he stowed her in the walk-in fridge come daylight. Sookie and Lafayette were shocked, but Tara's next move wasn't up to them: "You gave Tara another chance," Sam said. "May not be the life she had in mind, but it's up to her now what she wants to do with it."
Arlene rocked an absolutely HIDEOUS bedazzled turquoise fanny pack as Terry told her he was taking off with Patrick – and couldn't tell her where or when he'd be back.
Pam flashed back to before she was made again: Eric showed up at her brothel, asking for her (as opposed to one of her lovely ladies). But before they could get to, uh, business, Eric and Pam stopped a vicious Bill and his companion – Lorena! – from draining another one of Pam's girls. They were in Eric's territory, and he would have none of it. "I believe we have a debt to settle," Pam said in the dream, a tear of blood sliding down her cheek in reality. Later, she remembered asking him to make her, but he said it was too much responsibility. "Then make me and leave me," she said. "I can take care of myself." When he refused, she slit her wrists. "Let me walk the world with you Mr. Northman. Or watch me die."
Jason ran into an old school teacher – Miss Stiller – who apparently set him on the womanizing path he's been on for decades. "You taught me the only thing that I've ever been great at. That ain't no mistake." Except that after he slept with her again, she realized what she was talking about – that it had been a mistake. 
Jessica was shopping when she came across a faerie – and chased him down to the cemetery. "I can smell you," she said. But he was gone. So she went to Jason. "I ain't some mechanical bull you can ride anytime you want." He told her he'd been filling his emptiness with sex. But he was done. Jessica said she was his friend. "Maybe I'll have some advice. Maybe I'll just listen. It's that easy."
The Authority's Chancellor Salome – she of the actual dance of the seven veils and John the Baptist's head on a platter – bantered with Bill about history and humanity. "I want to help you," she said. "Something about you moves me. Can I trust you?" To which Bill said, "How can I prove it you when you already have my life in your hands?" Cue the rough sex.
Later, the Chancellor Salome revealed to Eric that she knew Nora was his sister. Godrich told her. She said in everything, there was always a choice. "You're cold. It's because you've been hurt." He said he healed quickly. But she dropped her robe and offered to help him.
The Chancellor Salome, in bed again, this time with Roman, told him that neither Bill nor Eric were Sanguinistas. They were not unshakable in their beliefs. "Mr. Compton is looking for something to believe in, and Mr. Northman only believes in himself." But she worries for Roman and his war, which had divided the vampire nation.
"I think you did it all for love," Chancellor Roslyn said to Nora as she pumped silver in to veins. "Which one is it? Both? Now that's a sandwich I'd take a bite out of anytime." Then Nora spewed about the vampire bible and how she was a believer.
IN the meat locker at Merlotte's, Lafayette offered a barely awake Tara a bottle of True Blood. But she didn't want it. So she came out and confronted them all. "Seriously, Sookie, this is your plan? To pretend it never happened?" She told them to stay away – or she'd rip their throats out.
In the kitchen at Merlotte's, Lafayette was cooking when he overheard Arlene shaming him about turning Tara into a vamp. So he got pissed and poured a bottle of bleach into the gumbo pot. Except then he caught sight of himself in the mirror. And it wasn't him – it was the demon that had possessed Jesus.
Sookie told Alcide what happened to Debbie. "I killed her," she said. "You loved her, you forgave her for everything. I didn't know what you would do. I didn't know if you would tell." He was furious. "You owe me more than lying to my face."
Tara decided to go to a tanning salon. "Curl up and fry," the sign said. Sounds like fun. But Pam, her maker, sensed it, rolling her eyes. "You stupid bitch."

Uh oh, looks like Tara's about to get school on some very vampy ways. 
"True Blood" airs Sundays at 9 p.m. ET/PT on HBO.