Lindsay Lohan Relates to Elizabeth Taylor
Actress talks about 'Liz & Dick' role on newly released Lifetime featurette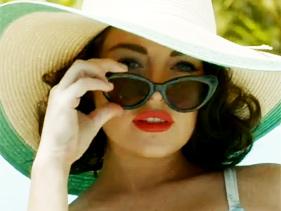 Lindsay Lohan is no stranger to controversy.
In fact, it's one of the things that makes her a lot like Elizabeth Taylor, says the actress in a newly released featurette (click here to see the featurette) for Lifetime's "Liz & Dick," a much buzzed about made-for-TV movie that premieres in November.
Bing: More on 'Liz & Dick' | Lindsay Lohan | Elizabeth Taylor
"I relate to her on a lot of levels," Lohan says of Taylor, who she portrays in "Liz & Dick." "Living in the public eye and dealing with the stress of what other people say, whether it's true or not."
Plus: TV's creepy smilers | TV's top secrets revealed
Lohan, 26, of course has been grabbing headlines for a lot of things lately including another hit-and-run car accident and arrest and a love scene with Charlie Sheen in "Scary Movie 5."
But Lifetime isn't squeamish about Lohan's off-camera issues. In fact, the featurette celebrates what they're calling her comeback, declaring her "Liz & Dick" role as her first lead in five years.
Kudos to Lifetime for finding silver linings where they can when it comes to Lohan and her career.
"Liz & Dick" premieres in November on Lifetime.