Tyra Banks Talks Babes and Babies on 'Steve Harvey'
Former daytime host makes return to her former stomping grounds
Tyra Banks is making the rounds in daytime, and one of her stops was "Steve Harvey," airing Wednesday, Oct. 17. The former talk show host surprised one lucky audience member by jumping into an "Ask Steve" segment and then, along with "America's Next Top Model" co-star Rob Evans, judged the first ever "Modeling with Steve" competition. Banks also dispelled dating rumors and revealed she's ready to have babies.
Bing: More about Steve Harvey | Tyra Banks dating rumors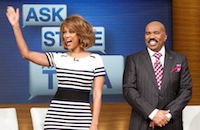 During his sitdown with Tyra Banks, Steve Harvey asked what kind of guy could land her, leading her to quickly dispell buzz that she's dating young'uns like Drake and Rob Evans.
"There's been a lot of rumors that I've been dating certain people, all these young boys," she said. "Ain't true. I ain't a couga'. Really, I'm ready to have some babies."
Plus: TV actors who also sing | TV superheroes from A to Z

Harvey was stunned by the reveal.
"I've always wanted them, but I would say, 'In three years,'" Banks explained. "I've been saying I want babies in three years since I was like 27. Now, I'm 28! No, I'm 38, so I think it's time. They're going to be par-boiled, fried and scrambled up in there, so it's time to get them eggs workin."
During her visit, Banks also teamed up with "America's Next Top Model" costar Evans to help Harvey judge three aspiring models in the first ever "Modeling with Steve" competition. Tyra's biggest fans also stopped by for a very special "Thank You" surprise that harkens back to her talk show days.
Wednesday's episode also featured Rocco Dispirito, who shared delish gluten-free recipes, and a look at smartphone auto-corrects.
Banks, who is currently working on her first scripted comedy, Fivehead, also visited "Rachael Ray Show" for a makeover takeover Monday, Oct. 15 and talked about the culture of cruelty on "Katie" Tuesday, Oct. 16.     

"Steve Harvey" airs weekdays in syndication.  
Are you sure you want to delete this comment?