Q&A: Kelsey Grammer of 'Boss'
Veteran actor talks Season 2, Tom Kane and recent Emmy snub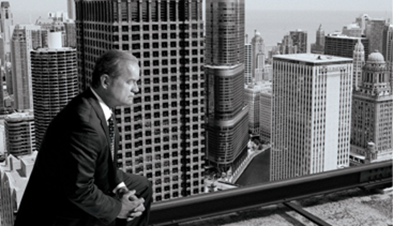 Kelsey Grammer is slightly sleep-deprived but impressively relaxed. His baby daughter, Faith, is a little more than a month old and sleeps in three-hour intervals. And that allows the actor, best known for his Emmy-winning turn as Frasier Crane, to get about six hours of rest a night, he said.
Bing: More on 'Boss' | Kelsey Grammer
Besides, Grammer, 57, is a man on a mission. He's furiously plugging the second season of his critically heralded drama, "Boss," which returns Friday, Aug. 17, on Starz. In case you have not seen the show -- with fewer than two million viewers, chances are you haven't -- it follows Tom Kane, a corrupt Chicago mayor and his dirty world of big-city politics. The role earned Grammer a Golden Globe award.
To make matters more fascinating, a degenerative neurological disorder is slowly killing Kane and clouding his already compromised judgment. In season two, viewers will see a Kane hell bent on creating a lasting legacy before it's too late. Sanaa Lathan, Jonathan Groff and rapper/actor Tip "T.I." Harris have joined the cast giving the political saga a tantalizing "King Lear" meets "The Wire" feel.   
Plus: Seriously funny actors | New, must-see fall shows | New fall shows to avoid
Grammer sat down with MSN TV to talk about the new season of "Boss," his character Tom Kane and the actor's recent Emmy snub.
MSN TV: How will Kane's illness affect what viewers see in Season 2?
Kelsey Grammer: The first part of this season is driven both by the consequences of what he did last year and by his disease. He's not necessarily aware of what's happening yet, in his own decline, but he will become aware of it. And there will be a big shift again in the middle of the season. Right now, season two is not like the show we did last year but it is the same show. The rhythm of this is different. It's being driven in a different way. There's a convergence of varying consequences that he has to deal with and he's a little bit out of touch with what he has to do. He's in over his head. Previously, he was still in charge while discovering his disease and discovering what it may or may not do. Now he's actually in the midst of something that's affecting him and he has to find out how to deal with that.
In Season 2, Kane starts to have more hallucinations. Are they a result of his guilt or the disease?
Well, they can be whatever you want them to be but for Kane, it's real. It's an apparition. There's a long history in great tragedies in which apparitions or ghosts visit -- like "Macbeth," "Hamlet" -- and so we took what we know as something that was commonplace in those days and also something people believed. It wasn't as if there was something wrong with him. It was "Oh s---. The spirit of his father just came and told him he had to avenge his death." That was common. That was a commonplace motivator in historical drama. So we are quite comfortable with that.
Can you talk about Chicago as a character on the show?
I don't know if it's a character on the show. Visually, it's certainly a character. And it's represented. The story of Chicago is already sort of mythic and there's a sort of love about it, particularly with its politicians. I think the culture of that enhances the show. It's really the reputation of Chicago that enhances the show than Chicago itself. The people of Chicago are wonderful. They love the show. They populate the show. We use all the actors from Chicago that we possibly can. But the character of Chicago the city is a made-up character. The mix between graft and policy, which is historically famous, is certainly played out on our show. I'd hate to think things were really done this way.
The chemistry between you and Hannah Ware, who plays Kane's daughter Emma, is impressive. That was sad when Kane sold her out to the cops in season one because they were becoming so close. Why would he do that?
He had to stay in power and he figures he can fix it with his kid. That's pretty much his philosophy with everything. "Do what you have to do and fix it later when there's time." Political expedience is the way he lives and staying in power is more important than anything else. He can't fix it if he's not in power.
Do you like Tom Kane? And is that necessary with a role like this?
I think you always fall in love with the characters you play because you figure out why they do it. Why they behave that way. Kane sees himself as a man who must be the leader of Chicago because the city will suffer if he isn't. It may be all that he knows but he also knows that it's all that he's good at. It is his destiny to do this job. In his mind, it always was. Whether or not he thought so as a young man is a different story. But he's this guy now and he cannot separate his own identity and the city of Chicago. It's so fun. He's such a wonderful character to play. You get to do things that are extraordinary. He's a monster but he's also a hero.
Isn't that the rewarding part about "Boss" being on cable? That you get to play a complicated role like this?
He's just a guy I thought would be fun to play. I don't spend a lot of time thinking I'm making some lasting impression or cultural statement. I mostly want to play a guy I believe is possible. Cable TV is still willing to explore stuff and that's what is great. They're creative. It's not a formula yet. Listen, I love that I was on television for 20 years playing the same character. It was fantastic. But this is not Frasier Crane and I love doing this role too. Even in that vein, we've promised the viewer that this guy is going to descend into his death. That means that every season has to be different. Something needs to change. Now, that's not popular on television. They like shows that are predictable in a weird way. We're thinking five or six seasons. That feels about right.
You're probably tired of talking about this, but are you disappointed "Boss" didn't get any Emmy recognition?
Sure. It's a good show. I mean if it wasn't a good show, I'd get it. If it wasn't really the best work I've ever done I'd get it. But it is. So, I don't quite know what happened. It seems strange. It's about performance, isn't it? If it's about anything else then there's something wrong with them.
"Boss" returns for a second season Friday, Aug. 17, at 9 p.m. ET/PT on Starz.